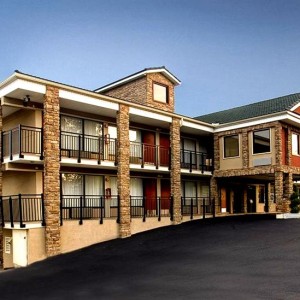 1st Inn Branson
For information or reservations:
Call: 1 (800) 504-0115
Local: (417) 544-1944
Travel Tip: Lodging is popular, book early for best prices & availability!
About 1st Inn Branson
A very popular choice amongst travelers because of its amenities, location, and price – the 1st Inn Branson hotel provides superior value for your next stay in the area. Within walking distance of many of the area's restaurants, shows, attractions, and shops – you will find that this property provides everything you need to have a memorable and enjoyable stay.
read more...
Special Deal Included With Every Order!
FREE Mini-Golf With Your Stay!
With your reservation, you will also receive free rounds of miniature golf (for everyone staying) at the Back to the 50's mini golf course!
Just call us toll-free at: 1 (800) 504-0115 to book your room or for more information!
About 1st Inn Branson
Hotel Overview
# of Buildings

2

# of Rooms

132

# of Floors

3
Policies
Check-in

3:00 pm

Check-out

11:00 am

Smoking rooms

No

Pets allowed

No

Extra adults

FREE
Questions or Reservations
Toll-free

1 (800) 504-0115

Local

(417) 544-1944

Groups?

Please call for special rates
Ready to book?
Book Now!
A mid-range hotel that offers quality and convenience, your stay will be both comfortable and relaxing for the duration of your trip. With cozy rooms that feature upgraded amenities and features, it provides remarkable value for the price.
Rooms are divided amongst two buildings which have been recently renovated and updated. In addition to the well-appointed rooms, guests staying here will love the extras that will help make your stay the best possible and include fresh cookies served each evening, an on-site miniature golf course, and much more.
If you're looking for value and location – this hotel is one of the best options you will find.
Free Cookies Served Each Night
Each day from 3:00 pm through the evening, all guests staying at the hotel can enjoy fresh-baked cookies (which are complimentary with your stay).
Location
There are few lodging properties in the Branson area that offer the convenient location of this beautiful hotel. Sitting right off the Highway 76 "Strip" (the main road that runs through the center of town), you are just a few steps away from many great points of interest.
Sitting next to the property you will find several restaurants that range from local country cooking to upscale dining establishments. Within walking distance are several of the area's most popular theatres while a couple of the main shopping hotspots are just a few minutes up the road.
Hotel Features & Amenities
100% non-smoking
24-hour front desk
32″ flat-screen TV
Alarm clock radios
Breakfast

free

Cable TV
Coffee makers (in-room)
Corridors (interior & exterior)

Cribs
Curved shower bars
Elevators
Fitness center
Guest computer
Guest laundry
Hair dryers (in-room)
Internet (Wi-Fi)

free

Local calls

free

Microwaves (in-room)
Mini-golf (on-site)
Parking

free

Pool (outdoor)
Pillow top mattresses
Refrigerators (in-room)
Telephone with voicemail
Continental Breakfast
Biscuits & gravy
Cereal
Coffee & tea
Donuts

Fresh fruit
Juices (assorted)
Milk
Muffins

Oatmeal
Sausage
Scrambled eggs
Yogurt
Book Now!
Lock in great prices and ensure availability.
Save time & money by reserving ahead.
Buy Now!
Give a Branson Gift Card!
Give them a present they won't ever forget!
Room Types Available
Double Queen Room
Equipped with luxurious furnishings and decor, these room types can accommodate many different types of travelers.
Book now
Sleeps: Up to 5 people
---
King Room
Couples or solo travelers will find this to be the perfect place to stay during your next vacation in Branson. Whether you're staying one night or one week - it offers everything you need for a great night's rest.
Book now
Sleeps: up to 2 people
---
Single Queen Room
Whether you're traveling solo or with a friend or loved one, the single queen rooms provide extra living space and comfortable sleeping arrangements.
Book now
Sleeps: up to 2 people
---
King Jacuzzi Room
Those looking for romance or relaxation will find that these beautifully-set up rooms provide both comfort and style for your next stay.
Book now
Sleeps: up to 2 people
We Guarantee
Your booking is safe - Your information is protected.
No service fees - We don't add any additional booking or service fees.
No fees to change - We don't charge for changing dates or times.
Your privacy is protected - Information is used only to confirm your booking.