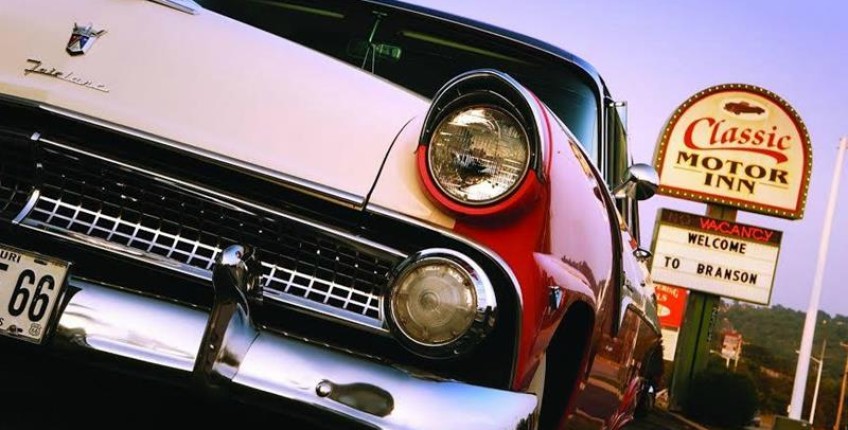 For information or reservations:
Call: 1 (800) 504-0115
Local: (417) 544-1944
Sale!
$54
prices from
(varies by season)
On Sale!
Reserve
free

Breakfast, internet, local calls, & parking!
Travel Tip: Hotels fill up fast, book ahead for best rates & availability!
About Classic Motor Inn
Because of its location, price, and features, this hotel offers up one of the best values in the area (and is also one of the most popular in its price range).
read more...
Special Deal
Classic Motor Inn Special!
Receive a FREE Branson Guest Card with your order
(a $39.95 value with $3,900 in discounts!)
Call us toll-free at: 1 (800) 504-0115 to order tickets or for more information!
Book now and lock in your rates.
For best rates & availability, we recommend booking ahead.
Book Now!
For more information, please call toll-free:
1 (800) 504-0115
(we are open 7 days a week, 8:00 am - 10:30 pm)
About Classic Motor Inn
Hotel Overview
Rooms

62

Check-in:

2:00 pm

Check-out:

11:00 am

Pet-friendly?

Yes
Questions or Reservations?
Toll-free

1 (800) 504-0115

Local

(417) 544-1944

Groups?

Please call for special rates
Ready to Book?
Check Availability
One of the most popular hotels in the economy lodging price range, the Classic Motor Inn is a great choice for many different types of travelers visiting the Branson area.
Clean & Affordable
Perhaps the greatest appeal of the property comes from the clean and affordable room rates that you will find offered nearly any time of year.
Simple, yet well-maintained – these rooms offer everything you might need for a comfortable and enjoyable night's rest during your visit to the area.
Family owned and operated, guests return each year to experience one of the most economical hotels in the area that provides one of the best values for the money as well.
Classic Cars on Display!
Drawing its name from the classic cars and vehicles that are on display in the hotel's lobby (and which rotate frequently), it's a unique place to call home on your next visit to the Ozarks.
Centrally-Located
Sitting along Shepherd of the Hills Expressway, this hotel is convenient to nearly anywhere you might want to go in town. Whether you're looking to take in some of the live entertainment for which the city has become such a popular tourist draw, or you're wishing to take in some of the amazing shopping deals – you will be just minutes away no matter where you want to go.
Hotel Features & Amenities
Adjoining rooms
Breakfast

free

Cable TV with remote
Classic cars on display
Evening snacks

Gift shop
Guest laundry
Hair dryers
Internet (Wi-Fi)

free

Iron & ironing boards
Local calls

free

Parking

free

Pool (outdoor)
Refrigerators (in-room)
Continental Breakfast Includes:
Bagels
Biscuits & gravy
Cereal
Coffee

Donuts
English muffins
French toast
Fruit

Milk
Toast
Waffles
Yogurt
Pet-Friendly Hotel
Classic Motor Inn is a pet-friendly hotel and is one of the few properties where pets always stay free!
Book Now!
Lock in great prices and ensure availability.
Save time & money by booking ahead.
Have Questions or Ready to Reserve?
For questions, information, or reservations:
Call now: 1 (800) 504-0115
Local: (417) 544-1944
We're open 7 days a week! (8:00 am - 10:30 pm)
Location
2384 Shepherd of the Hills Expy, Branson, MO 65616
We Guarantee
Your booking is safe - Your information is protected.
No service fees - We don't add any additional booking or service fees.
No fees to change - We don't charge for changing dates or times.
Your privacy is protected - Information is used only to confirm your booking.