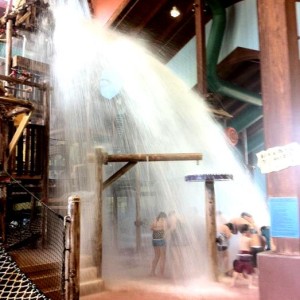 Splash Country Indoor & Outdoor Waterpark
About Splash Country Indoor & Outdoor Waterpark
The area's largest and most impressive indoor/outdoor waterpark, Splash Country at Grand Country provides year-round fun for all ages! During the winter months, guests can play at the inside water park area that includes a lazy river, splash area, slides, and more! During the summer months, cool off in the outdoor kids area or take a dip in the cool, relaxing pool. Whether you're staying at the hotel or just visiting for the day, it's something the whole family will love.
read more...
About Splash Country Indoor & Outdoor Waterpark
One of the Branson's most impressive and fun waterparks is located at the Grand Country Square entertainment complex. Featuring both indoor and outdoor slides and water features, this is one of the very few water activities that can be enjoyed year-round!
A multi-million project that was designed as a destination for families, this is one of the most fun attractions or things to do anywhere in town!
Slides, Splash, & Rides!
Equipped with all of the rides and water activities to help make your visit to Branson as much fun as possible, Splash Country is the ultimate place to relax and have some fun with the family and friends.
Half of the attraction is located inside and half outside – allowing you hours of fun no matter what time of year you're visiting (or what the weather is like while you're here).
Indoor Waterpark Features:
Basketball Play Pool – Have some water basketball fun with an exciting game of ball!
Melting Pot Spas – Bubbling water and jets provide a recreation of natural hot springs!
Mining Company Grill – This on-site grill cooks up some good and fast food for everyone!
The Lazy River – For those looking for relaxation, it doesn't get better than this – as the calm current takes you along more than 250′ of tranquil waters!
The Treehouse – Towering over the water features beneath, this area includes a 1,000 gallon bucket that splashes out among those beneath it!
Toddler Pool – Built for fun, this special pool area for the youngest ones has slides, swings, and more in a 2,00 square foot area!
Outdoor Waterpark Features:
Eureka Mine – Take a ride down this thrilling waterslide that is sure to get your heart racing!
Froggie Bog – Shooting jets of water among five different level, you will never know where the water will shoot out!
Lounging Areas – Sit back and relax in one of these specially-designed areas that have been designed for your comfort.
We Guarantee
Your booking is safe - Your information is protected.
No service fees - We don't add any additional booking or service fees.
No fees to change - We don't charge for changing dates or times.
Your privacy is protected - Information is used only to confirm your booking.
Splash Country Indoor & Outdoor Waterpark