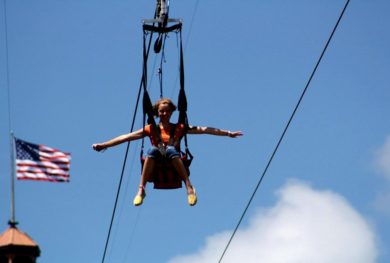 About Vigilante Extreme ZipRider...
Launching from the top of the Inspiration Tower, Vigilante ZipRider is the tallest one in the world and fun for all ages!
read more...
Experience Vigilante Extreme ZipRider!
About the attraction...
Launching from the top of the Inspiration Tower, Vigilante ZipRider is the tallest one in the world and fun for all ages!
The Tallest ZipRider in the World!
A unique zipline-style ride that is the first of its kind anywhere in the world, the attraction has the distinction of being the tallest ZipRider in the world and the very first to be attached to an existing platform (the Inspiration Tower).
One-of-a-Kind Zipline Ride!
Soar above the treetops of the Ozark forests and mountains as you take a ride on one of the most thrilling and exciting activities in the Midwest at the Vigilante Extreme ZipRider at the Shepherd of the Hills homestead in Branson, Missouri!
230′ Tall Launch Tower!
Your journey begins as you enter the gates of the Shepherd of the Hills homestead, a 160-acre property that is considered one of the most historic and influential sites in the region.
Entering the base of the Inspiration Tower, you will board one of two glass elevators that will whisk to the top of the 230′ tall structure with scenic views that overlook the Ozarks.
Once atop the tower, you enter a climate-controlled observation deck before stepping out to the ZipRider's platform – where you will be given a very brief introduction before gearing up for the ride of your life!
Up to 4 people are able to ride at the same time, sitting in their harness side-by-side next to each other on one of the most thrilling activities you will ever experience!
Once you have made your zip, you will be returned back to the base of the tower via a tram – leaving you right where you started your journey.
Nearly a Half-Mile Long & Speeds up to 50 mph!
A one-of-a-kind experience, the Vigilante ZipRider will take you down nearly 2,400 feet of cable at speeds up to 50 mph as you descend more than 370 feet over the course of your ride!
Year-Round Fun for all ages!
Open most of the year, the ride offers visitors of all ages the chance to experience this once-in-a-lifetime activity in one of the most beautiful and scenic settings in the country.
Riders from ages 3 to 93 have ridden safely on this thrilling outdoor adventure. As long as you're between the weight of 75-275 lbs. (and without any medical conditions which might impact your ride), you can experience the amazing ZipRider yourself on your next trip to Branson, Misouri!
Booking tip: This attraction is very popular, advance reservations are recommended!
Reviews
Vigilante Extreme ZipRider
Launching from the top of the Inspiration Tower, Vigilante ZipRider is the tallest one in the world and fun for all ages!
Tickets

Price

Quantity

All Ages (75-275 lbs)

$

29.94
NO FEES for
Booking or changing
Save time
Avoid the long lines!
We Guarantee
Our promise to you:
Your Booking
is safe & secure
No Fees
for booking or changing

Other travelers also liked…
Still looking for more fun activities?

View all things to do in Branson
Ready to reserve?
To ensure the best possible service,
we only book by phone
Call now toll-free:
1 (800) 504-0115
We're open 7 days a week
(8:00 am - 10:30 pm - Central Time)
Special Promotion Price Terms & Conditions
We work with a local travel club (it's not a timeshare) and can offer you some amazing deals on your next trip to Branson!
To take advantage and qualify for this very special pricing, there are a few terms, qualifications, and conditions we need to let you know about.
Qualifications
This special offer is for single, married, or cohabitating couples that meet the following conditions:
Have an annual combined income of $40,000+
Agree to attend (together if married or cohabitating) a 90-minute travel club sales presentation
Show IDs with matching address at presentation
Show a major credit card, debit card, or checkbook at presentation
Must be a US resident
Must be between the ages of 25-75
Have not declared bankruptcy in the last 2 years
Not valid for Westgate Resort or Travel Club owners or those with access to Westgate Travel Club
How do I get this special price?
Upon completion of your presentation we will credit you back $100 toward your package. :-)
In the event you do not attend the presentation or don't meet the qualifications above, the regular package price will apply.
Please note that this promotional material is being used for the purpose of soliciting sales of a travel club, however, no purchase at the sales presentation is required - only 90 minutes of your time.
Have questions?
Give us a call: 1 (800) 504-0115


Hotels available in this package
All hotel options are based upon availability.


FREE Branson Guest Card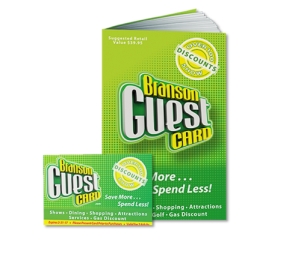 When you order, you receive a FREE Branson Guest Card that is packed with savings, discounts, and coupons!
Valued at $29.95, this card and booklet offers you nearly $5,000 in deals and discounts around Branson!
Packed with savings, it will save you on shopping, restaurants, golf, attractions, and more!
Included FREE when you book!
Ready to book?
Give us a call: 1 (800) 504-0115
Vigilante Extreme ZipRider
5586 W. Hwy 76, Branson, MO 65616