Roundup On the Trail – Chuckwagon Dinner Show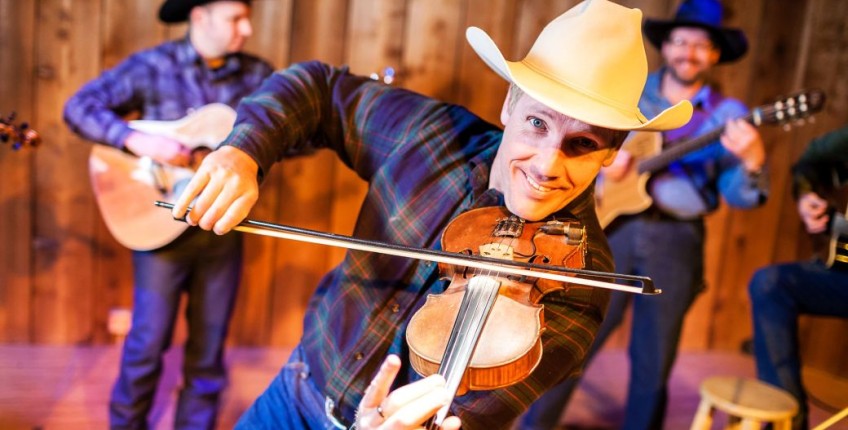 Ready to book?
Call: 1-800-504-0115
Local: (417) 544-1944
Unfortunately, this show is currently unavailable or not playing in Branson :(
However, you can check out our
list of Branson shows
to see ones that are now playing (or scheduled to play this year).
About Roundup On the Trail – Chuckwagon Dinner Show
One of the newest and most unique shows to start in Branson, the Roundup on the Trail show features some of the best country, western, and cowboy songs which is accompanied by one of the best home-cooked meals you will find anywhere!
By Popular Request & Demand!
For more than a decade, this talented group of singers, storytellers, and musicians have been sharing their entertainment with audiences visiting during the Christmas and holiday season with their popular "Christmas on the Trail" show. With some changes to the songs and stories, the group has extended their run to play the entire year – while still performing their popular Christmas show during the months of November and December.
With the new show now running through the year, it gives visitors a chance to see one of the most talked-about and highly requested productions in town.
Cowboy Songs, Stories, Comedy, & Music!
From traditional Western songs and cowboy tunes to modern country music, you will hear a variety of music that has entertained audiences of all types and ages. Whether they're sharing in singing in harmony one of their favorite songs or displaying some of their amazing instrumental abilities, everyone that watches the show will find that it provides some of the most entertaining and enjoyable two hours of performances that you can see anywhere!
The roots of today's country music are explore while the soul-moving and inspirational gospel music you know and love will be shared by the talented singers and musicians.
Laugh along with the cast and crew as they share some of their funniest stories and comedic tales, which will leave everyone in the audience laughing out loud and maybe rolling in the aisles!
Dinner Served at Each Show!
Served off an authentic chuckwagon, the Roundup on the trail is one of the most unique dinner shows in Branson. Your warm cowboy meal includes some of the best home-cooked food, prepared fresh with each performance and includes:
Regular Meal:
Seasoned & basted turkey breast
Fire-roasted campfire beans
Slow-smoked Texas brisket
Dutch oven potatoes
Fire-roasted corn on the cob
Home-cooked, Dutch oven cobbler
Fresh-backed rolls
Cowboy coffee, tea, and water
Gluten-Free Meal:
Slow-smoked Texas brisket
Maple-smoked turkey breast
Fire-roasted corn on the cob
Baked potato
Campfire baked beans
Cowboy coffee, tea, and water
Vegetarian Meal:
Dutch oven potatoes
Cookie's hot roll
Fire-roasted corn on the cob
Hot, Dutch oven cobbler
Campfire baked beans
Cowboy coffee, tea, and water
Set Inside a Climate-Controlled, Covered Pavilion
Those who watch the show will be treated to one of the most unique live entertainment experiences to be found in the area. Set on the grounds of the Shepherd of the Hills homestead, your show takes place inside a climate-controlled, covered pavilion, that allows a one-of-a-kind viewing of this remarkable show. During the warm summer months, the sides of the pavilion are closed and air conditioned, while the cooler months are heated to provide comfort no matter what time of year you're visiting.
For one of the most memorable times to be had on your next trip, this chuckwagon dinner and show is something you won't want to miss!