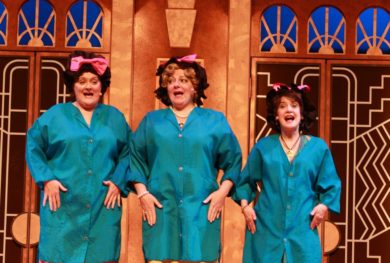 About the show...
The Off-Broadway hit comes to Branson for a very special series of limited engagement performances!
read more...
What people are saying...
"Fresh, funny and simply terrific!"


–LA Times
Experience

Menopause The Musical!
About the show...
The Off-Broadway hit comes to Branson for a very special series of limited engagement performances!
At a Glance
Location

40328

Show Length

About 90 Minutes

Prices From $47.49
Seating

Reserved

Groups of 15+?

Please call for special rates
The Off-Broadway Hit Comes to Branson, Missouri!
For more than 15+ years Menopause The Musical has been entertaining audiences around the world!
Now, this smash-hit brings its LIVE production to the Branson stage for a very limited engagement of performances!
A LIVE Musical & Theatrical Production!
Join the four women as they embark on a shopping trip through Bloomingdale's, erupting into songs, stories, and some of the most hilarious comedy you will ever see!
The theatrical production will take you on a trip along with them as they share songs and music, it's "The Hilarious Celebration of women and The Change."
Throughout the performance you will experience the hilarious antics, stories, and theatrics of these 4 incredibly-talented women!
A true musical stage production, the show features 25 songs that take you on a journey through three decades of music (60s, 70s, & 80s):
Change, Change, Change
I Heard It Through the Grapevine
Sign of the Times
Stayin' Awake/Night Sweatin'
My Husband Sleeps Tonight
Hot Flash
Drippin' and Droppin'
I'm Flashing
The Great Pretender
Sane and Normal Girls/Thank You Doctor
Lookin' for Food
Please Make Me Over
Beauty's Only Skin Deep
Puff, My God, I'm Draggin'
The Fat Gram Song
My Thighs
Don't Say Nothing Bad About My Body
I'm No Babe, Ma
Good Vibrations
What's Love Got To Do With It?
Only You
New Attitude
This is Your Day
It's a celebration of women that you won't want to miss!
15+ Years of Shows & Performances!
History was made in 2011, when the show opened its curtain for the first time in an Off-Broadway debut in Orlando, Florida.
From Orlando to Las Vegas to their international tours and appearances, this musical hit has taken the world by storm!
Now, for the very first time ever – Branson visitors will have the chance to see this hugely successful and popular production as it is performed LIVE on stage for one of the must-not-miss events of the year!
Limited Branson Engagement!
Because of the very limited 4-day performance schedule, seats are sure to fill up fast!
Book your seats as early as possible to ensure the very best seating and availability!
Reviews
Sale!
Menopause The Musical
$47.50
The Off-Broadway hit comes to Branson for a very special series of limited engagement performances!
Book early for
Best seating!
NO FEES for
Booking or changing
Save time
Avoid the long lines!
We Guarantee
Our promise to you:
Your Booking
is safe & secure
No Fees
for booking or changing

Other travelers also liked…
Still looking for more shows?

View all Branson Shows
Ready to reserve?
To ensure the best possible service,
we only book by phone
Call now toll-free:
1 (800) 504-0115
We're open 7 days a week
(8:00 am - 10:30 pm - Central Time)
Special Promotion Price Terms & Conditions
We work with a local travel club (it's not a timeshare) and can offer you some amazing deals on your next trip to Branson!
To take advantage and qualify for this very special pricing, there are a few terms, qualifications, and conditions we need to let you know about.
Qualifications
This special offer is for single, married, or cohabitating couples that meet the following conditions:
Have an annual combined income of $40,000+
Agree to attend (together if married or cohabitating) a 90-minute travel club sales presentation
Show IDs with matching address at presentation
Show a major credit card, debit card, or checkbook at presentation
Must be a US resident
Must be between the ages of 25-75
Have not declared bankruptcy in the last 2 years
Not valid for Westgate Resort or Travel Club owners or those with access to Westgate Travel Club
How do I get this special price?
Upon completion of your presentation we will give you $100 (cash or credit back) toward your package. :-)
In the event you do not attend the presentation or don't meet the qualifications above, the regular package price will apply.
Please note that this promotional material is being used for the purpose of soliciting sales of a travel club, however, no purchase at the sales presentation is required - only 90 minutes of your time.
Have questions?
Give us a call: 1 (800) 504-0115


Hotels available in this package
All hotel options are based upon availability.


FREE Inspiration Tower Tickets!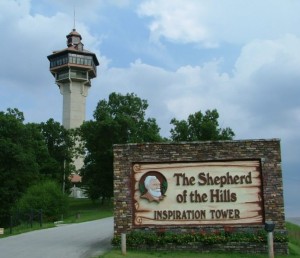 When you order, you'll receive FREE general admission tickets (for everyone traveling with you) to the Shepherd of the Hills Inspiration Tower!
Enclosed glass elevators take you to the top of the tower, which is also enclosed and offers sweeping, breathtaking, panoramic views of Branson and the Ozarks (and on a clear day you can see up to 90 miles away)!
Just another way of saying thanks for booking with us!
Included FREE when you book!
Ready to book?
Give us a call: 1 (800) 504-0115


FREE Branson Guest Card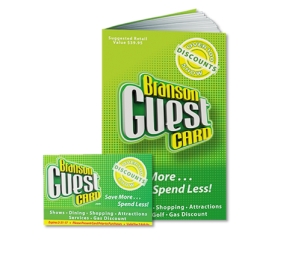 When you order, you receive a FREE Branson Guest Card that is packed with savings, discounts, and coupons!
Valued at $29.95, this card and booklet offers you nearly $5,000 in deals and discounts around Branson!
Packed with savings, it will save you on shopping, restaurants, golf, attractions, and more!
Included FREE when you book!
Ready to book?
Give us a call: 1 (800) 504-0115
Menopause The Musical
40328
1600 W. Highway 76, Branson, MO 65616