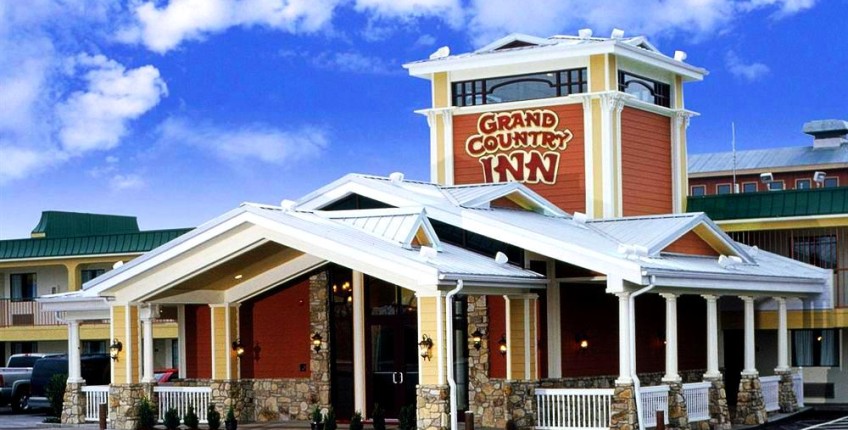 For information or reservations:
Call: 1 (800) 504-0115
Local: (417) 544-1944
Sale!
$89
prices from
(varies by season)
On Sale!
Reserve
free

Waterpark access for all guests!
Travel Tip: Hotels fill up fast, book ahead for best rates & availability!
About Grand Country Inn
Visit Grand Country Inn and Splash Country (the area's largest indoor & outdoor water park) for an experience you won't ever forget!
read more...
Special Deal
Grand Country Inn Special!
Receive a FREE Branson Guest Card with your order
(a $39.95 value with $3,900 in discounts!)
Call us toll-free at: 1 (800) 504-0115 to order tickets or for more information!
Book now and lock in your rates.
For best rates & availability, we recommend booking ahead.
Book Now!
For more information, please call toll-free:
1 (800) 504-0115
(we are open 7 days a week, 8:00 am - 10:30 pm)
About Grand Country Inn
At a Glance
Waterpark Access?

Included (Free)
Questions or Reservations?
Toll-free

1 (800) 504-0115

Local

(417) 544-1944

Groups?

Please call for special rates
Ready to Book?
Check Availability
The very first hotel with an indoor waterpark in the state, the Grand Country Inn is your destination for fun on your next visit to Branson!
Clean & Modern Rooms
Guests who stay at this property can rest comfortably each night in the clean, modern, and updated rooms. Equipped with amenities that meet (and exceed) the demands of today's travelers each guest room includes: in-room coffee makers, free high-speed wireless internet, and full access to the on-site indoor/outdoor waterpark – Splash Country.
Everything You Need On-Site!
There are few properties in the Branson area that offer the wide range of features and services that are at your disposal when you stay here. On-site you will find one of the area's most popular indoor waterparks, several restaurants and dining establishments, live music shows and entertainment, and plenty of attractions and activities for the family or friends to enjoy.
Mid-Strip Location
The hotel sits right off the Highway 76 "Strip," providing guests with convenient access to the things they might want to see or do while in town. Additionally, many other sightseeing activities and tourist attractions are within walking distance of the property – giving you amazing access to things to do in the area.
Hotel Features & Amenities
Arcade (on-site)
Microwaves (every room)
Mini-golf (on-site)
Parking

free

Pool (indoor)
Pool (outdoor)
Refrigerators (every room)
Restaurant (on-site)

Rollaways ($9/night)
Shopping (on-site)
Shows (on-site)
Waterpark access (all guests)

free
Book Now!
Lock in great prices and ensure availability.
Save time & money by booking ahead.
Room Types Available
Double Queen Room
Stay in comfort and style with your family or friends in this room that features two queen beds.
Book now
Sleeps: Up to 5 people
Have Questions or Ready to Reserve?
For questions, information, or reservations:
Call now: 1 (800) 504-0115
Local: (417) 544-1944
We're open 7 days a week! (8:00 am - 10:30 pm)
Location
1945 W Hwy 76, Branson, MO 65616
We Guarantee
Your booking is safe - Your information is protected.
No service fees - We don't add any additional booking or service fees.
No fees to change - We don't charge for changing dates or times.
Your privacy is protected - Information is used only to confirm your booking.