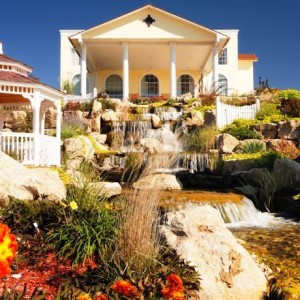 Savannah House Hotel
For information or reservations:
Call: 1 (800) 504-0115
Local: (417) 544-1944
Travel Tip: Lodging is popular, book early for best prices & availability!
About Savannah House Hotel
Beautifully-landscaped and manicured grounds and an inviting, open lobby welcome you to experience the hospitality and charm of the Savannah House hotel in Branson. Affordable rates, comfortable decor, and cozy atmosphere make this one of the most-requested properties in the area.
read more...

About Savannah House Hotel
Policies
Check-in

3:00 pm

Check-out

1:00 pm

Smoking rooms

No

Pets allowed

No

Extra Adults (More than 2)

$8/night
Questions or Reservations
Toll-free

1 (800) 504-0115

Local

(417) 544-1944

Groups?

Please call for special rates
Ready to book?
Book Now!
Sitting atop one of the beautiful and scenic hills of the Ozark Mountains, the Savannah House Hotel provides a great place to stay during your next stay in Branson, Missouri.
Beautiful Ozarks View
Overlooking the Ozark mountains and forests, the hotel provides sweeping, panoramic views of the surrounding area. Wake up each morning and look out over the hills below you and witness the area in its natural, undisturbed splendor.
Southern Charm & Elegance
The property has the look and feel of a Southern plantation with all of the charm and personality you might expect from this type of lodging.
The lobby and rooms are set up with upgraded, upscale decor – providing comfort and style for everyone who stays.
Feel Welcome and At Home
Equipped with all of the things you need to have a great stay, the hotel provides comfort no matter how long you're going to be staying – whether it's one night or one week.
All guests staying at the property will have access to the free continental, deluxe breakfast each morning – while each night free dessert (including ice cream, fresh-baked cookies, and hot cobbler) is served.
Convenient Location
Located along Shepherd of the Hills Expressway, the Savannah House is conveniently located near many attractions and shows in the area. Sitting on the north side of town, you can easily access nearly any part of the city by Shepherd of the Hills or one of the nearby back-roads that help you avoid the traffic and congestion.
Hotel Features & Amenities
100% non-smoking
24-hour front desk
Breakfast

free

Cable TV with remote
Dessert each night

free

Elevators

Fitness center
Hair dryers (in-room)
Interior corridors
Internet (Wi-Fi)

free

Iron & ironing board

Meeting space
Microwaves ($5/night)
Parking

free

Pool (outdoor)
Refrigerators ($5/night)
Complimentary Breakfast Includes:
Book Now!
Lock in great prices and ensure availability.
Save time & money by reserving ahead.
Buy Now!
Give a Branson Gift Card!
Give them a present they won't ever forget!
We Guarantee
Your booking is safe - Your information is protected.
No service fees - We don't add any additional booking or service fees.
No fees to change - We don't charge for changing dates or times.
Your privacy is protected - Information is used only to confirm your booking.