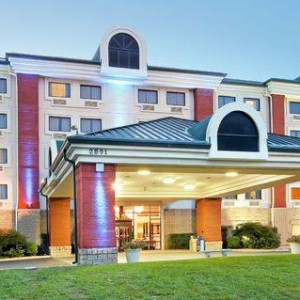 Holiday Inn Express
For information or reservations:
Call: 1 (800) 504-0115
Local: (417) 544-1944
Travel Tip: Lodging is popular, book early for best prices & availability!
About Holiday Inn Express
Featuring upgraded amenities and decor, this beautiful hotel lies off Green Mountain Drive and is close to all of the things to see and do in town.
If you're looking for location and a modern place to stay, this property is definitely worth visiting on your next trip!
read more...

About Holiday Inn Express
Policies
Check-in

3:00 pm

Check-out

11:00 am

Smoking rooms

No

Pets allowed

No

Extra Adults (More than 2)

$5/night
Questions or Reservations
Toll-free

1 (800) 504-0115

Local

(417) 544-1944

Groups?

Please call for special rates
Ready to book?
Book Now!
A professional and friendly staff awaits your arrival at the Branson Holiday Inn Express on Green Mountain Drive. Located in an ideal setting for any type of traveler!
Amazing Amenities!
You can start your day off right with the Express Start breakfast bar (complimentary) that features Smart Roast 100% Arabica coffee and a full menu of items to choose from.
Unbeatable Location!
The hotel is situated in the heart of Branson's theater and entertainment district, just minutes away from the popular activities and attractions.
Under new ownership, the Holiday Inn Express in Branson offers clean, affordable lodging for your next stay in the area!
Hotel Features & Amenities
100% non-smoking
24-hour front desk
Breakfast

free

Business center
Coffee (in-room)
Electronic locks

Fitness center
Game room
Ice Machine
Internet (Wi-Fi)

free

Iron & ironing board
Local calls free

Microwaves available
Parking

free

Pool (indoor)
Refrigerators available
Rollaways available
Safety deposit box
Continental Breakfast Includes:
Book Now!
Lock in great prices and ensure availability.
Save time & money by reserving ahead.
Buy Now!
Give a Branson Gift Card!
Give them a present they won't ever forget!
Room Types Available
Double Queen Room
Updated and comfortable, these rooms are able to accommodate many different types of travelers.
Book now
Sleeps: Up to 5 people
We Guarantee
Your booking is safe - Your information is protected.
No service fees - We don't add any additional booking or service fees.
No fees to change - We don't charge for changing dates or times.
Your privacy is protected - Information is used only to confirm your booking.