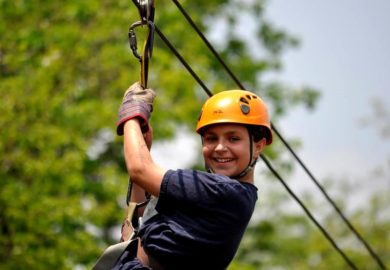 About Adventure Ziplines
A thrilling and exciting zipline tour for all ages that zips through the trees and Ozark Mountains of Branson!
read more...
Limited Time Special!

Book in the next & you'll also receive:
FREE Branson Guest Card

($4,000+ in coupons - $29.95 value!)

FREE Mini-Golf

(For everyone traveling - $8.95 value per person!)

FREE Old-Time Photo

(For up to 6 people - $50 value!)
Get Tickets!
Lock in these deals now for best prices & availability!
Save time & money by booking early.
Call: 1 (800) 504-0115
7 Zipline Tour
All Ages (70-275 lbs)
$79.99 $79.95

save!

Book now & use any time
Instant confirmation
Book Now!
7 Zipline NIGHT Tour
All Ages (70-275 lbs)
$69.99 $69.95

save!

Book now & use any time
Instant confirmation
Book Now!
Groups of 15+ Adults? For special group discounts, please call: 1 (417) 544-1944
About Adventure Ziplines...
A thrilling and exciting zipline tour for all ages that zips through the trees and Ozark Mountains of Branson!
At a Glance...
Zipline Duration About 11/2 hours
# of Ziplines

7

Weight Limit

70-275 lbs.

Age Limit

3+ Years Old

Clothing

Close-toed shoes required

Max people

12 per group
Questions or Reservations
Booking ahead

Strongly recommended

Toll-free

1 (800) 504-0115

Local

(417) 544-1944

Groups of 15+?

Call for special rates
A Zipline Adventure Through the Ozark Mountains!
Soar above the Ozark Mountains and experience thrilling excitement when you take a ride on the Adventure Ziplines in Branson!
With an easy-to-access location that sits in the center of town, this zipline offers a thrilling and adrenaline-pumping ride you won't ever forget!
Branson's #1 Zipline!
Over the past several years Branson has become one of the country's most popular ziplining destinations, with more than a half-dozen rides and adventures throughout the area.
Visit Branson's #1 zipline and take part in an unforgettable experience that includes:
7 incredible ziplines!
Speeds that zip you up to 50 mph!
2+ miles of cables that take you above the treetops
70′ high views of the Ozarks
3 swinging rope bridges
State-of-the-art facitity
Professionally-trained staff & guides
…and much more!
Set in the Heart of Branson!
Situated just a few blocks of the famous Highway 76 "Strip" and nestled against the Ozark Mountains, you can experience views and scenery unlike anywhere else in the area!
Conveniently located near most of the lodging and things to do, it provides easy in and out access for guests.
Take a Ride on 7 Ziplines!
Zip above the trees as your ride takes you on 7 different lines that range in length from 450 to 2,000 feet long, racing at speeds of up to 50 mph!
Strategically-place landing and launch pads ensure a fun and thrilling once-in-a-lifetime experience, with towers that reach up to 70′ tall!
Throughout your approximately hour-and-a-half journey you will zip along 7 different cables, walk over suspension bridges, walk up towers, and have one of the most unforgettable experiences ever!
Safety is the #1 Priority
Of utmost importance is your safety while participating in this exciting attraction.
A 20-minute orientation and introduction to ziplining will provide you with all of the information you need to ensure a completely safe and fun experience for the time that you're here.
With certified trainers, dual-cable construction, and multiple safety redundancies – it's safe for people of all sizes and ages.
Whether this is your first time ziplining, or you're a seasoned pro – you'll find that none of the attractions or things to do in Branson can compare with the fun and memory-making you'll experience at Branson's Adventure Ziplines!
Fun for Everyone!
Built to accommodate most visitors, there are just a couple of requirements to ride.
Must be ages 3+
Must weigh between 70-275lbs.
Tandem Rides Available for Kids!
Younger children may ride tandem with an accompanying adult or may choose to ride with one of the certified and professional tour guides.
Health & Medical Issues
Those with heart or back medical issues are advised to not ride as it could affect their condition or possibly worsen it.
Inclement Weather Policy
To provide the best experience and service possible, the zipline operates under most weather conditions. The rain and cold doesn't stop the fun, just be sure to dress appropriately so you can enjoy your time as much as possible!
However, in the event of a severe storm or lightning Adventure Ziplines will not operate. We can reschedule you to another time or day in the event of severe or inclement weather.
Large Groups Welcome!
Groups, families, and friends can make memories by experiencing the adventure together!
With each tour able to accommodate up to 12 guests at a time, it provides the ultimate way to make memories!
For groups larger than 12 people, you can book two tour slots (one behind the other) so that everyone can take part in the fun.
Smaller groups will most often be paired up with another (or several other) small groups.
Travel Tips:
Clothing: Close-toed shoes required. Also, please dress appropriately for the weather!
Arrive early: We recommend arriving at least 30 minutes early prior to your scheduled tour time.
Adventure Ziplines
Still looking for more shows?

View all Branson Shows
6 Reasons to Book Now
Book early
for Best seating!
Save time
Skip long lines!
We Guarantee
Our promise to you:
Your Booking
is safe & secure
Your Privacy
is Protected