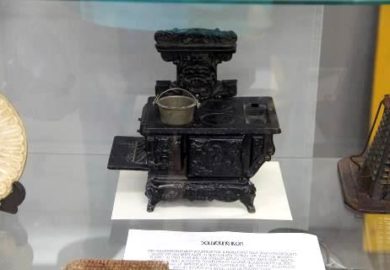 About Branson Centennial Museum
Established to celebrate the Branson's centennial, this museum is a showcase of 100 years of the people, culture, and entertainment that has made Branson, Missouri!
read more...
Limited Time Special!

Book in the next & you'll also receive:
FREE Branson Guest Card

($4,000+ in coupons - $29.95 value!)

FREE Mini-Golf

(For everyone traveling - $8.95 value per person!)

FREE Old-Time Photo

(For up to 6 people - $50 value!)
Get Tickets!
Lock in these deals now for best prices & availability!
Save time & money by booking early.
Call: 1 (800) 504-0115
Groups of 15+ Adults? For special group discounts, please call: 1 (417) 544-1944
About Branson Centennial Museum...
Established to celebrate the Branson's centennial, this museum is a showcase of 100 years of the people, culture, and entertainment that has made Branson, Missouri!
At a Glance...
Questions or Reservations
Booking ahead

Strongly recommended

Toll-free

1 (800) 504-0115

Local

(417) 544-1944

Groups of 15+?

Call for special rates
A Collaboration between several different private entities, organizations, and public departments – the Branson Centennial Museum offers a look behind the rich history and culture of the area.
Celebrating Branson's Centennial
What was originally intended to mark the centennial anniversary of Branson in 2012, the museum's run has been extended by the generosity of a local businessman.
Showcasing the History & Heritage of the Ozarks
Through photos, artifacts, and stories – the museum has preserved countless priceless items and artifacts so that future generations might be educated about the area and current generations can enjoy a look back in time.
Continually Rotating Displays & Exhibits
With a schedule that operates on a 6-8 week rotation, there is always something new and different when you visit. The current lineup of exhibits include:
School Days – a history of the schools and education in the area
The Roots of Tourism – highlights of what enabled Branson to grow to the popular destination it is today
Early Branson – facts, stories, and items that relate to the town prior to its official founding in 1912
Conflicts – honoring the Veterans who have served our country and examining pieces all the way back to the Civil War era
The White River – everything about the lakes and their development
In addition to these large features, several "mini" exhibitions have been developed to share bits and pieces from other aspects of the area including:
Floods
Rail and railroad
Resorts
The Branson Fire
Unique Industries
The Caves of the Adoration Parade
Churches
Festivals and events
Food and Restaurants
Notable People of Branson & The Ozarks
A special monthly feature will highlight some of the notable people who were pioneers or helped shape some of the area and include: Rose O' Neill, Mary Herschend, Mary Trimble, Rose Merritt, Reuben Branson, John Neihardt, and more than a dozen more who were instrumental figures.
A Joint Effort Between Organizations
To bring this free attraction to the public and visitors who travel to the area, several organizations stepped up to help in establishing the museum and include: the White River Valley Historical Society, the Branson Chamber of Commerce, the Downtown Branson Main Street Association, and City of Branson – along with Jim D. Morris who donated use of the building for an entire year.
Branson Centennial Museum
Still looking for more shows?

View all Branson Shows
6 Reasons to Book Now
Book early
for Best seating!
Save time
Skip long lines!
We Guarantee
Our promise to you:
Your Booking
is safe & secure
Your Privacy
is Protected