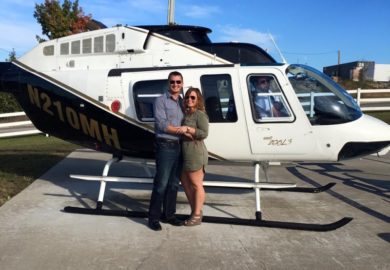 About Chopper Charter Helicopter Tours
Experience the Ozarks in this once-in-a-lifetime helicopter tour experience!
read more...
Limited Time Special!

Book in the next & you'll also receive:
FREE Branson Guest Card

($4,000+ in coupons - $29.95 value!)

FREE Mini-Golf

(For everyone traveling - $8.95 value per person!)

FREE Old-Time Photo

(For up to 6 people - $50 value!)
Get Tickets!
Lock in these deals now for best prices & availability!
Save time & money by booking early.
Call: 1 (800) 504-0115
Helicopter Tour Rides
Chopper Charter requires that you must have more than one person to ride, no single riders.
For questions, tickets, or reservations:
Call us: 1 (800) 504-0115
There are NO Service Fees or Booking Charges
Groups of 15+ Adults? For special group discounts, please call: 1 (800) 504-0115
About Chopper Charter Helicopter Tours...
Experience the Ozarks in this once-in-a-lifetime helicopter tour experience!
At a Glance...
Questions or Reservations
Booking ahead

Strongly recommended

Toll-free

1 (800) 504-0115

Local

(417) 544-1944

Groups of 15+?

Call for special rates
Incredible Helicopter Tours of Branson!
Experience beautiful views and the breathtaking scenery of Branson as you take a once-in-a-lifetime helicopter ride through the Ozarks!
Witness incredible views of the Ozark Mountains, see the famous "Strip" from a never-before-seen vantage point, and take part in an unforgettable and memory-making experience!
Unbelievable Views of Branson & the Ozarks!
Never before have you witnessed the "Live Entertainment Capital" in such a unique and fascinating way!
Your helicopter tour will take you up and over the famous tourist town for sweeping views of the city, surrounding mountains and forests, and provide you with the ultimate sightseeing experience!
This once-in-a-lifetime tour is sure to leave you with memories that will last long after you have landed back on the ground!
Perfect for Fun, Special Occasions, & More!
Whether you're celebrating a special occasion, looking for a romantic rendezvous, or simply looking to experience a one-of-a-kind attraction – these helicopter tours are something you will want to put at the top of your list!
Seats up to 6 People!
The helicopter tours can accommodate up to 6 passengers at once, with one center seat and 5 additional window seats.
Central Location Provides Convenient Access!
Sitting alongside the famous Highway 76 "Strip," Chopper Charter helicopter tours offer convenient access no matter where you're staying or which direction you're traveling from.
Safety Comes First!
With these tours, safety comes first and is of the utmost importance!
You can fly comfortable and safely knowing:
Chopper Charter's Director of Operations has 20+ years of aviation and flight experience
The chief pilot has 30+ years of aviation experience
The Director of Maintenance has 28+ years of experience
Pilots are thoroughly tested and have impeccable safety and flight records
Guests are briefed prior to each flight
Modern, state-of-the-art helicopters are flown
Your ride will be as safe, comfortable, enjoyable, and unforgettable as possible!
Travel Tips:
2-Passenger Minimum: Helicopter tours have a 2-person minimum, solo riders will be paired with others
Inclement Weather: In the event of inclement weather your tour will be rescheduled.
Cameras & Video Recording: Is definitely encouraged and a great way to bring your memories back home with you!
Chopper Charter Helicopter Tours
Still looking for more shows?

View all Branson Shows
6 Reasons to Book Now
Book early
for Best seating!
Save time
Skip long lines!
We Guarantee
Our promise to you:
Your Booking
is safe & secure
Your Privacy
is Protected