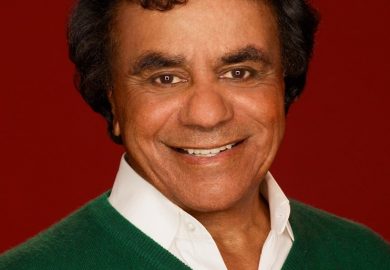 About the show...
Johnny Mathis returns to Branson for a special series of Christmas shows this winter!
read more...
About the show...
Johnny Mathis returns to Branson for a special series of Christmas shows this winter!
See Johnny Mathis LIVE on Stage in Branson!
One of the most popular entertainers to ever perform in Branson, Johnny Mathis returns for two nights of Christmas concerts which will no doubt be one of the highlights of the holiday season!
Celebrating 60+ Years of Songs & Music!
There are few personalities who have had such an enduring time in the spotlight.
Beginning in the mid-1950s, Johnny's music began permeating the radio airwaves of the country and resulted in his first smash hit (and one that has become a music classic) "Chances Are."
Throughout the years he continued to produce chart-topping hits that made him famous the world over including:
"The Twelfth of Never"
"Gina"
"What Will Mary Say"
"Too Much, Too Little, Too Late"
"Life Is a Song Worth Singing"
along with many more classics that have each become legendary in their own right!
As his career moved forward, Johnny Mathis would go on to produce and release some of his most famous work with his Christmas songs and albums. These songs gained enormous popularity and are now some of the most highly-played classics during the holiday season.
Proving that he can adapt and still release popular material, he teamed up with Ray Charles shortly before the late legend passed away for a rendition of "Somewhere Over the Rainbow" on Ray's "Genius Loves Company" album – which proved to be a phenomenal success!
An Award-Winning Performer!
His contributions to music have gained Johnny recognition and accolades around the world.
Just some of the amazing things that Mr. Mathis has been honored with include: 1 Grammy Lifetime Achievement Award, 3 Special Grammy awards for his songs, a star on the Hollywood Walk of Fame, and recognition by the Guinness Book Of World Records for his Greatest Hits album spending nearly 500 weeks on the charts!
A Rare Chance to See a Living Legend!
There are few chances that come around that give audiences the opportunity to catch a star of this caliber performing in Branson.
Now, for a very special set of shows – you can see one of music's most enduring and legendary icons in a show that is sure to be one of the highlights of the season!
For tickets, questions, or reservations:
Call now: 1 (800) 504-0115
Reserve My Seats!
Still looking for more shows?

View all Branson Shows
6 Reasons to Book Now
Book early
for Best seating!
Save time
Skip long lines!
We Guarantee
Our promise to you:
Your Booking
is safe & secure
Your Privacy
is Protected