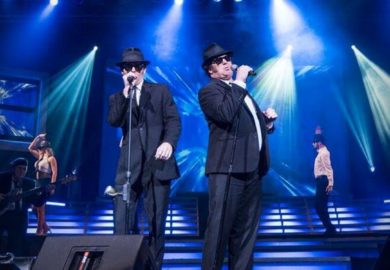 About the show...
The world's greatest tribute artists bring the most popular singers, musicians, and entertainers to life LIVE on the Branson stage in a high-energy, action-packed, musical entertainment extravaganza!
read more...
What everyone is saying...
"Everyone was great! I can't wait to be able to go back again!"


– Barb
"The show was awesome! A must see..."


– Jocelyn K.
"...just saw the show and were blown away by the performances."


– Stan M.
Limited Time Special!

Book in the next & you'll also receive:
FREE Branson Guest Card

($4,000+ in coupons - $29.95 value!)

FREE Mini-Golf

(For everyone traveling - $8.95 value per person!)

FREE Old-Time Photo

(For up to 6 people - $50 value!)
2022 Show Schedule
Book now for best seats! For best seats (and savings), we recommend reserving as early as possible.
July
S
M
T
W
T
F
S
1
2
3
4
5
6
7
8
9
10
11
12
13
14
15
16
17
18
19
20
21
22
23
24
25
26
27
28
29
30
31

August
S
M
T
W
T
F
S
1
2
3
4
5
6
7
8
9
10
11
12
13
14
15
16
17
18
19
20
21
22
23
24
25
26
27
28
29
30
31

September
S
M
T
W
T
F
S
1
2
3
4
5
6
7
8
9
10
11
12
13
14
15
16
17
18
19
20
21
22
23
24
25
26
27
28
29
30

October
S
M
T
W
T
F
S
1
2
3
4
5
6
7
8
9
10
11
12
13
14
15
16
17
18
19
20
21
22
23
24
25
26
27
28
29
30
31

November
S
M
T
W
T
F
S
1
2
3
4
5
6
7
8
9
10
11
12
13
14
15
16
17
18
19
20
21
22
23
24
25
26
27
28
29
30

December
S
M
T
W
T
F
S
1
2
3
4
5
6
7
8
9
10
11
12
13
14
15
16
17
18
19
20
21
22
23
24
25
26
27
28
29
30
31

---

Spring (Feb 4 - May 24):

The Temptations
Waylon Jennings or Michael Jackson March 8-18th
The Blues Brothers
Elvis

Summer (May 26 - Sept 9):

Brooks & Dunn
Adele
The Blues Brothers
Elvis

Fall (Sept 8-Oct):

Tina Turner
Freddie Mercury
The Blues Brothers™
Willie Nelson
Elvis

Christmas (Nov - Jan 1, 2023):

Alan Jackson
Carrie Underwood
Garth Brooks
The Blues Brothers™
Elvis Gospel

---

Show Times
3:00 pm
8:00 pm
3:00 pm & 8:00 pm
3:00 pm (Country Show)
8:00 pm (Regular Show)
9:30 pm

Booking tip: Legends in Concert is very popular, advance reservations are recommended!

Package Specials!

HUGE Savings With Tickets + Hotel + More!

You can also customize by adding nights, shows, and more people!

Legends in Concert

2-Night Package

Special Promotion

Your package includes:

3 Days/2 Nights Lodging (Hotels Available)
(2) Legends in Concert show tickets

Free

Mini-Golf (for everyone traveling)

Free

Branson Guest Card ($29.95 value)

Free

Old-Time Photo (up to 6 people!)

Free

Breakfast each morning

Questions or ready to book?

Call us: 1 (800) 504-0115

$394.85

$29

Sale!

per couple
(not per night)

You save up to:

$265.85 (67%) off!

Book Now!

Special price when you attend a 90-minute travel club sales presentation (this is not a timeshare) Terms & Qualifications

Legends in Concert

2-Night Package

Your package includes:

3 Days/2 Nights Lodging (Hotels Available)
(2) Legends in Concert show tickets

Free

Mini-Golf (for everyone traveling)

Free

Branson Guest Card ($29.95 value)

Free

Old-Time Photo (up to 6 people!)

Free

Breakfast each morning

Questions or ready to book?

Call us: 1 (800) 504-0115

$394.85

$229

Sale!

per couple
(not per night)

You save up to:

$165.85 (42%) off!

Book Now!

No strings attached, catches, or gimmicks!

Have questions or ready to book?
Give us a call: 1 (800) 504-0115

Have package questions or ready to book?

Call now: 1 (800) 504-0115

Book My Package!

Get Tickets!

Lock in these deals now for best seats, prices, & availability!

Save time & money by booking early.

Call: 1 (800) 504-0115

Adults
(Ages 13+)

$41.95 $40.95

sale!

Best available seats
Reserved seating

Book Now!

Children
(Ages 4-12)

$19.00 $18.95

sale!

Best available seats
Reserved seating

Book Now!

Groups of 15+ Adults? For special group discounts, please call: 1 (800) 504-0115

About the show...

The world's greatest tribute artists bring the most popular singers, musicians, and entertainers to life LIVE on the Branson stage in a high-energy, action-packed, musical entertainment extravaganza!

At a Glance...

Show Length

About ~2 hours

Seating

Reserved

Reservations? Strongly recommended

Questions or Reservations

Toll-free

1 (800) 504-0115

Local

(417) 544-1944

Groups of 15+?

Call for special rates

Starring the World's Greatest Tribute Artists!

Millions of people around the world have seen Legends In Concert over the years, one of the world's premiere tribute shows!

You Won't Believe What You See & Hear!

As each performer takes to the stage to perform their act, you may have a hard time believing what you're seeing and hearing! Professional entertainers in every sense of the word, these artists manage to capture the likeness of the person they are paying tribute to with stunning accuracy.

They replicate the look, sounds, and mannerisms of some of the world's biggest music superstars – creating a show that you will have to see to believe! With years of constant refinement, they bring the stars that they portray to life with each show – delivering a high-energy, action-packed show of epic proportions!

There's Always Something New!

With locations around the country (in Atlantic City, Las Vegas, and more) the tribute artists rotate in and out of the various venues, ensuring that each time you see the show there will be something new and exciting!

In addition to the frequent changes of line-up, each time of the year brings a different mix of entertainers – so if you visit in the Spring and come back in the Fall, you will see a series of performances that were completely different from the last time you saw the show!

An Amazing Assortment of Entertainment & Music!

Because of the diversity and variety of the show's setup, audiences from all walks of life will find something they will enjoy. The show transitions through a variety of music genres from pop & rock (like the performers who emulate Michael Jackson, Adele, & Buddy Holly) to country (like those performing as Johnny Cash and Shania Twain), to those who have set their own styles of music like Elvis Presley and the Blues Brothers!

Two Hours of Singing, Dancing, & High-Energy Acts!

Backed by a full, live band the music of each artist is recreated on stage to provide a true and authentic feeling to everyone watching – while many of the tribute artists even playing instruments of their own. This combination ensures only the highest level of quality and authenticity that you will hear anywhere!

Joining the stage with the band and performers is one of the most talented set of back-up singers and dancers to be found in the Midwest! They will inject some energy and color with their beautiful costume changes with each act.

Legends in Concert

Still looking for more shows?

View all Branson Shows

6 Reasons to Book Now

Book early

for Best seating!

Save time

Skip long lines!

We Guarantee

Our promise to you:

Your Booking

is safe & secure

Your Privacy

is Protected

Ready to reserve?

To ensure the best possible service,
we only book by phone

Call now toll-free:

1 (800) 504-0115

We're open 7 days a week
(9:00 am - 5:00 pm Mon-Sun - Central Time)

Special Promotion Price Terms & Conditions

We work with a local travel club (it's not a timeshare) and can offer you some amazing deals on your next trip to Branson!

To take advantage and qualify for this very special pricing, there are a few terms, qualifications, and conditions we need to let you know about.

Qualifications

This special offer is for single, married, or cohabitating couples that meet the following conditions:

Have an annual combined income of $40,000+
Agree to attend (together if married or cohabitating) a 90-minute travel club sales presentation
Show IDs with matching address at presentation
Show a major credit card, debit card, or checkbook at presentation
Must be a US resident
Must be between the ages of 25-75
Have not declared bankruptcy in the last 2 years
Not valid for Westgate Resort or Travel Club owners or those with access to Westgate Travel Club

How do I get this special price?

Upon completion of your presentation we will give you $100 (cash or credit back) toward your package. :-)

In the event you do not attend the presentation or don't meet the qualifications above, the regular package price will apply.

Please note that this promotional material is being used for the purpose of soliciting sales of a travel club, however, no purchase at the sales presentation is required - only 90 minutes of your time.

Have questions?

Give us a call: 1 (800) 504-0115

Hotels available in this package

Upgrade your hotel for $40

All hotel options are based upon availability.

Questions or ready to book?
Call us: 1 (800) 504-0115

FREE Inspiration Tower Tickets!

When you order, you'll receive FREE general admission tickets (for everyone traveling with you) to the Shepherd of the Hills Inspiration Tower!

Enclosed glass elevators take you to the top of the tower, which is also enclosed and offers sweeping, breathtaking, panoramic views of Branson and the Ozarks (and on a clear day you can see up to 90 miles away)!

Just another way of saying thanks for booking with us!

Included FREE when you book!

Ready to book?

Give us a call: 1 (800) 504-0115



FREE Branson Guest Card

When you order, you receive a FREE Branson Guest Card that is packed with savings, discounts, and coupons!

Valued at $29.95, this card and booklet offers you nearly $5,000 in deals and discounts around Branson!

Packed with savings, it will save you on shopping, restaurants, golf, attractions, and more!

Included FREE when you book!

Ready to book?

Give us a call: 1 (800) 504-0115

Legends in Concert

Dick Clark's American Bandstand Theatre

1600 W 76 Country Blvd, Branson, MO 65616

Toll-free:

1 (800) 504-0115 ·

Local:

(417) 544-1944



Questions or ready to book?

Call now: 1 (800) 504-0115

Book Now