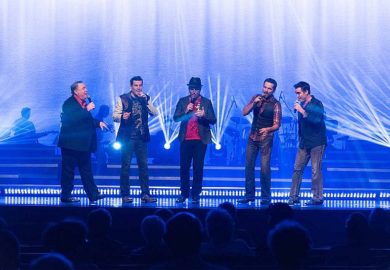 About the show...
Starring one of the largest performing families in the world! IT is a high-energy show featuring dancing, comedy, music, & more!
read more...
What everyone is saying...
"This show is one you don't want to miss. Your children will love it, too!!!"


– B. Stelding
"If you don't see this show you will hear about it when you get home. Then you will wish you saw it."


– Steven R.
"You won't believe how talented this family is. If you go, this is the one show not to miss!"


– Ron & Jerry
About the show...
Starring one of the largest performing families in the world! IT is a high-energy show featuring dancing, comedy, music, & more!
"The World's Largest Performing Family!"
The "World's Largest Performing Family" features a cast of more than 45+ entertainers, musicians, singers, and dancers in an all-new variety show presented by the Hughes Brothers known simply as… It!
30+ Years of Shows!
Seasoned professionals, the group has been performing in various venues and theatres around the world for nearly three decades. What originally began as a small family band with the brothers has grown to become the world's largest family production, with dozens of family in the cast (and more being added each year!).
For half of the time that they have been putting on shows, they have made Branson their home and celebrate more than a decade of performing in this popular tourist destination.
A True Music Variety Show!
While the main feature is the brothers' amazing harmonies and vocal talents, they are surrounded by some of the area's top entertainers to make a show that is as diverse and creative as it is enjoyable.
Sharing their unbelievable talents with audiences from around the world, the Hughes Brothers and their cast will provide a two-hour show filled with some of the best live entertainment to be seen anywhere. Be serenaded with the boys' beautiful voices, watch as their wives sing and dance around the stage, smile when the children of the family take the stage, and be impressed with the skillful playing of the instruments by a live band.
Hear music selections that range from country and gospel to rock 'n roll to Broadway!
The beautiful costumes that adorn the performers are a sight in and of themselves, with the cast making more than 150+ changes throughout the show.
"It" is a variety show in every sense of the word, providing everyone in the audience with something that they will enjoy and appreciate – you will want to See "It," Hear "It," Feel "It!"
Show + Dinner Option Available
Giving visitors a great way to save time and money, the Hughes Brothers' show also offers a meal option for their evening performances.
Beginning at 6:30 pm on the night of each performance (and served prior to showtime) inside the theatre, it's a delicious three-course spread that includes:
Adult Meal Includes:
Pork loin scaloppini with capers, Kalamata olives, crushed red pepper, and oregano in a garlic white wine sauce with a touch of marinara.
Chicken breast with mushrooms and artichoke hearts in a garlic white wine sauce with a touch of cream.
Red-skinned potatoes sauteed with rosemary and olive oil
Roasted green beans with olive oil and sea salt
Fresh-backed dinner roll with butter
Light champagne cake frosted with shredded white chocolate and strawberry drizzle
Child Meal Includes (ages 0-11):
Breaded chicken strips
Oven-baked french fries
Garden-fresh green beans
Baked chocolate chip cookie
It's a meal that would rival any restaurant in the area!
For tickets, questions, or reservations:
Call now: 1 (800) 504-0115
Reserve My Seats!
Hughes Music Show (formerly "IT")
Still looking for more shows?

View all Branson Shows
6 Reasons to Book Now
Book early
for Best seating!
Save time
Skip long lines!
We Guarantee
Our promise to you:
Your Booking
is safe & secure
Your Privacy
is Protected