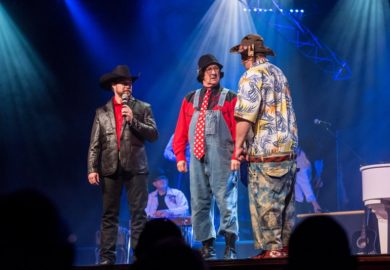 About the show...
Branson's first show – the Baldknobbers deliver two hours of action-packed, high-energy music, comedy, singing, and entertainment!
read more...
What everyone is saying...
"This is all for down-home fun."


– Tulsa World
"Great show! True entertainers and awesome performers!"


– Skully C.
"Just saw the show…it was wonderful! "


– Karla T.
About the show...
Branson's first show – the Baldknobbers deliver two hours of action-packed, high-energy music, comedy, singing, and entertainment!
Branson's First Show!
Since 1959, when the Mabe family first performed for visitors in downtown Branson alongside the Lake Taneycomo riverside – the Baldknobbers Jamboree show has been entertaining people with their unique brand of Midwest music and comedy!
Classic & Contemporary Country Music
While they are firmly rooted in the traditional country music classic songs, they inject their live show with some of today's modern hits.
You will hear some of your favorite songs from some of country's most popular and timeless artists from Hank Williams to Johnny Cash! Appealing to younger generations, the show is interspersed with some of today's most popular hit songs – ensuring audiences of all ages and generations something to enjoy during the show!
Side-Splitting Comedy!
With a lineup of comedians who have made themselves a household name in many parts of the country "Hargus" and "Droopy Drawers Jr." will keep everyone laughing with their zany antics, hilarious stories, and un-traditional delivery of some of the funniest tales you have ever heard!
It's good, clean fun that will have people of all ages laughing out loud.
Amazing Musicians & LIVE Band!
If you like live music, then you will love the Baldknobbers! Featuring a lineup of some of the finest country musicians in the country, you will be amazed with the phenomenal talent that takes to the stage each night.
With a band and set of musicians that would rival the most talented instrumentalists, they will keep the audience tapping and clapping along with some of the most popular songs that have topped the music charts.
American Music History in the Making!
Recognized far and wide as one of the pioneers in the live entertainment business, the Baldknobbers have been inducted into the Smithsonian Musuem in Washington DC for their significant contributions to the culture of America. Some of their items are now on display, allowing people from around the world to experience a slice of Midwest entertainment.
Modern, State-of-the-Art Theatre!
While their roots can be traced to pole barns and simple buildings in downtown Branson, they have upgraded their performance venue to what is now one of the premiere live theatres in the country at the Baldknobbers Theatre.
Equipped with special effects, amazing lighting technology, and some of the very best sound equipment you will find anywhere – no expense has been spared in order to deliver you a first-rate show! In addition to the stage accessories, the audience's area has been given special attention with special, comfortable seats that ensure your two hours at the theatre are some of the most entertaining, comfortable, and enjoyable you might find anywhere.
Family Fun for Everyone!
If you're looking for a clean and fun show that combines the best music, comedy, and entertainment in Branson – then this is a show you won't want to miss!
For tickets, questions, or reservations:
Call now: 1 (800) 504-0115
Reserve My Seats!
Branson's Famous Baldknobbers
Still looking for more shows?

View all Branson Shows
6 Reasons to Book Now
Book early
for Best seating!
Save time
Skip long lines!
We Guarantee
Our promise to you:
Your Booking
is safe & secure
Your Privacy
is Protected