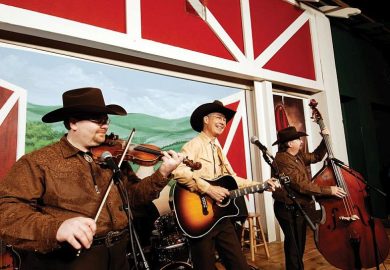 About the show...
The hit songs of Marty Robbins and other country, Western, and Swing stars are brought to life in this amazing show!
read more...
About the show...
The hit songs of Marty Robbins and other country, Western, and Swing stars are brought to life in this amazing show!
A Tribute to the Music & Life of Marty Robbins!
Featuring one of the most talented singers and musicians in the area, Leroy New brings his instantly likeable personality and instrumental talent to the stage in order to bring to life some of the most-loved songs from music legend Marty Robbins.
In addition to the famous Western/Swing performer's songs, Leroy will also share some of his favorite classic country songs of the biggest country musicians of all time – it's a show that you won't want to miss!
The "Best Lead Guitarist in Branson" will take you on a musical journey through the life and music of one of the most popular Western musicians of all time, as Leroy New shares his talents and appreciation of the legend in this moving Marty Robbins tribute show.
The Music & Songs of Marty Robbins!
Without a doubt, Marty Robbins was one of the most popular and influential musicians of his time. With chart-topping hits, record-breaking albums, multiple Grammy awards, and recognition by some of the most prestigious organizations in the music industry – it was his songs that helped shape and entire genre of music and laid pioneered a sound that would influence generations of musicians.
His hits like "El Paso" and "Don't Worry" shot him to the top of the music charts and made him a fixture on radio and TV the world over. His legacy continued to grow even while he was still alive, with artists ranging from the Grateful Dead and Elvis Presley among a handful of artists who covered his songs.
In this intimate performance venue, Leroy will share some of the stars most popular music accompanied by stories and insight behind some of the biggest Western and country hits of the last 50 years.
Marty's Legacy Brought to Life!
Few performers can successfully emulate and recreate the sounds (and passion) as well as Leroy New. A virtuoso on the guitar, his playing is only matched by his remarkable singing abilities – providing you with an afternoon of entertainment that is sure to be one of the highlights of your visit.
As one of the top country music tribute artists in the world, it's a rare glimpse of a true artist practicing his craft live on stage.
Classic Country & Western Music Hits!
While the show primarily features the hits from Marty Robbins, it also features select numbers from some of the biggest names in classic country including: Johnny Cash, Chet Atkins, Hank Williams, Merle Travis, Bob Wills, and more – providing everyone watching the show with something that they are sure to love!
For tickets, questions, or reservations:
Call now: 1 (800) 504-0115
Reserve My Seats!
Still looking for more shows?

View all Branson Shows
6 Reasons to Book Now
Book early
for Best seating!
Save time
Skip long lines!
We Guarantee
Our promise to you:
Your Booking
is safe & secure
Your Privacy
is Protected