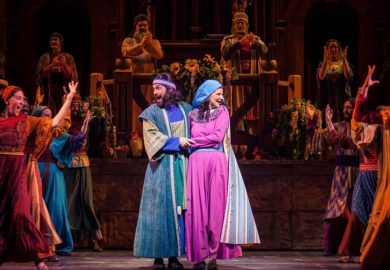 About the show...
Experience the birth of Jesus with this multi-million dollar stage show at Branson's famous Sight & Sound Theatre!
read more...
About the show...
Experience the birth of Jesus with this multi-million dollar stage show at Branson's famous Sight & Sound Theatre!
The Christmas Story Returns to the Branson Stage!
One of Branson's most popular and critically-acclaimed holiday shows returns to the stage as the Miracle of Christmas is presented at the world-famous Sight & Sound Theatre!
Performing during the months of November and December, you have the chance to take part and experience one of the most elaborate and inspiring stage productions ever presented!
Discover the True Meaning of Christmas!
Watch as the real story behind the Christmas season unfolds in front of you – and witness as Jesus' birth and life are chronicled in this remarkable live performance.
See the angels and kings descend upon the stage, those who helped shape what many consider the the most important time in history – and take part in this multi-sensory experience that will leave you inspired and touched by one of the most soul-warming events you can see anywhere!
Throughout your journey, the beautifully-costumed cast, incredible panoramic stage, LIVE animals, and amazing choreography and music will immerse you in one of the most world-changing stories ever told!
You will encounter Joseph and Mary, Angels, Wise Men, soldiers, shepherds, and more as you are taken on an unforgettable and inspirational trip back to the time of Jesus' birth.
LIVE Animals and Beautifully-Decorated Stages!
With the largest cast of live animals to be found on any stage in Branson, the scene is set for the area's largest and most impressive Christmas show!
Featuring a menagerie of animals from horses to donkeys and camels, you will be transported to another time where you will encounter the people and places that took part in one of the most important and historic events of all time.
A Multi-Million Dollar LIVE Stage Production!
With no expenses spared, the Miracle of Christmas is set inside a state-of-the-art venue at the Sight and Sound Theatre – one of the most luxurious and prestigious venues in the country.
Multi-million dollar lighting and stage sets, hundreds of costumes, and one of the world's most incredible productions makes its way to the Branson stage for a show you won't want to miss and memories you won't ever forget!
For tickets, questions, or reservations:
Call now: 1 (800) 504-0115
Book Online!
Still looking for more shows?

View all Branson Shows
6 Reasons to Book Now
Book early
for Best seating!
Save time
Skip long lines!
We Guarantee
Our promise to you:
Your Booking
is safe & secure
Your Privacy
is Protected