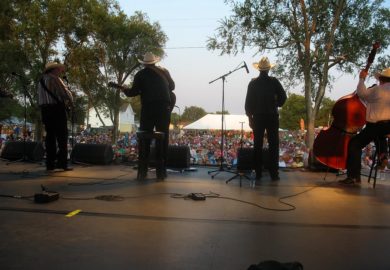 About the show...
Catch musical pioneers and Country, Western, and Cowboy music supergroup the Sons of the Pioneers performing their biggest hits LIVE in Branson!
read more...
About the show...
Catch musical pioneers and Country, Western, and Cowboy music supergroup the Sons of the Pioneers performing their biggest hits LIVE in Branson!
The Legendary Group Returns to Branson!
For nearly a century, the Sons of the Pioneers have been writing, recording, and performing some of the most timeless and classic country and western songs of all time!
Their cowboy style and sound, signature look, and enduring career have made them one of the longest-running and most successful groups of all time!
Recognized around the world for their contributions to American music and culture, the group has been name a "National Treature" by the Smithsonian Institution, have a star on the Hollywood Walk of Fame, and were the first country music or Western group to perform at the world-renown Carnegie Hall!
Country, Western, & Cowboy Music Pioneers!
True originals, the group would influence entire generations of musicians and fans and craft a unique sound that would span multiple music genres!
Millions around the world have heard the Sons of the Pioneers sing about life in the country and the West, with stories of cowboys, horses, and life and lifestyle of simpler times.
During their incredible music and entertainment career, ever-changing cast and band members (that began with Roy Rogers, Bob Nolan, and Tim Spencer) have appeared in more than 100+ TV specials and movies!
From Johnny Cash and Elvis Presley to Bing Crosby and the Boston Pops, their songs have been sung, performed, or recorded by some of the biggest names in music and entertainment!
Their amazing run of hit music includes some of the most famous and timeless songs of all time, including:
"Tumbling Tumbleweeds"
"Stars and Stripes on Iwo Jima"
"Cool Water"
"Teardrops in My Heart"
"Blue Shadows on the Trail"
…and many, many more!
Dinner & Show Included!
Take part in this historic experience alongside a delicious meal at one of Branson's best dinner shows!
Your meal includes:
Maple-glazed smoked turkey breast
BBQ Pulled Pork
Trail tater hash
Fire-roasted corn on the cob
Dinner Roll with Butter
Dutch over crumb top cobbler
Choice of Beverage
The Sons of the Pioneers Continue in Branson!
Carrying on the torch and legacy of the performers whose footsteps they follow in, one of country and Western's most famous groups continue the nearly 100-year tradition of performing and entertaining!
The current lineup of the group includes an all-star cast of musicians and singers, including: Dusty Rogers (son of Dale & Roy Rogers), Josh Fullerton, Tommy Nallie, and Ken Lattimore!
Performing LIVE in Branson!
Visitors to the "Live Entertainment Capital of the World" now have the rare chance to see one of the most iconic music groups of all time as they perform some of their biggest hits LIVE on stage!
Performing at the famous Shepherd of the Hills homestead, it's an opportunity to see living legends up-close!
For tickets, questions, or reservations:
Call now: 1 (800) 504-0115
Reserve My Seats!
Still looking for more shows?

View all Branson Shows
6 Reasons to Book Now
Book early
for Best seating!
Save time
Skip long lines!
We Guarantee
Our promise to you:
Your Booking
is safe & secure
Your Privacy
is Protected