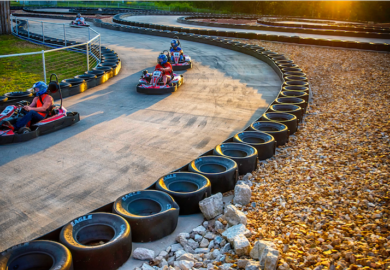 About Xtreme Racing Center Go Carts
Experience the Xtreme Racing Center, featuring the fastest go karts in Branson!
read more...
Limited Time Special!

Book in the next & you'll also receive:
FREE Branson Guest Card

($4,000+ in coupons - $29.95 value!)

FREE Mini-Golf

(For everyone traveling - $8.95 value per person!)

FREE Old-Time Photo

(For up to 6 people - $50 value!)
Get Tickets!
Lock in these deals now for best prices & availability!
Save time & money by booking early.
Call: 1 (800) 504-0115
With this package you receive 2 rides, one on the GT5 and one on the RT8.
2-Ride Package
(GT5 & RT8)
Ages 11+
$34.99 $34.95

save!

Book now & use any time
Instant confirmation
Skip the long lines
Book Now!
Please note: Close-toed shoes recommended, drivers must be at least 11 years old and 52″ or taller.
Groups of 15+ Adults? For special group discounts, please call: 1 (800) 504-0115
About Xtreme Racing Center Go Carts...
Experience the Xtreme Racing Center, featuring the fastest go karts in Branson!
At a Glance...
Duration

2 Races (about 6 minutes each)

Minimum Height

52" tall

Minimum Age

11 years old
Questions or Reservations
Booking ahead

Strongly recommended

Toll-free

1 (800) 504-0115

Local

(417) 544-1944

Groups of 15+?

Call for special rates
Them most extreme go karts in Branson, the Xtreme Racing Center features high-speed karts that reach speeds of up to 40 mph – making them the fastest in town!
The Only Carts of their Kind in North America!
Take a ride on one of the World Championship racing karts at speeds reaching nearly 40 miles an hour!
These "Sodi" brand karts offer some of the most advanced, sophisticated, and speedy carts in the world. At the course you will find two fast (yet unique) styles to choose from when riding: the "Pro Kart GT-5" offers riders the chance to drive at up to 30 mph and while still lightning fast, offers a more introductory ride; the second is the "Xtreme Kart RT-8" which is capable of achieving speeds of up to 40 mph and provides riders with a more intermediate level of racing.
In total, there are more than 40 brand-new carts for riders to choose from – ensuring a safe, fun, and exhilarating ride!
A One-of-a-King Go Cart Racing Track!
Spanning more than a half-mile long (at 3,500 feet in length), the course is privileged to be the longest, high-speed go-kart racing track in the country!
Setting itself apart from many of the other courses you may have driven on and like the carts that race on it, is one of the most technologically-advanced racing courses in the world today.
Not only can you zip around the curves, twists, and turns – but the track is equipped with technology and features that will store your lap times, compete against other racers, print out your times to take home with you, or even post your scores to social networks like Facebook and Twitter!
One of the most amazing aspects of the speed-tracking ability of the center is that on return visits, you can actually compete against your past scores!
Other Activities & Attractions On-Site!
An entertainment and adventure complex of its own, the Xtreme Race Park includes multiple activities and attractions for those visiting.
On-site you will find an arcade with video games and pinball as well as food options (including Coldstone Creamery) to choose from while you're here.
Xtreme Racing Center Go Carts
Still looking for more shows?

View all Branson Shows
6 Reasons to Book Now
Book early
for Best seating!
Save time
Skip long lines!
We Guarantee
Our promise to you:
Your Booking
is safe & secure
Your Privacy
is Protected