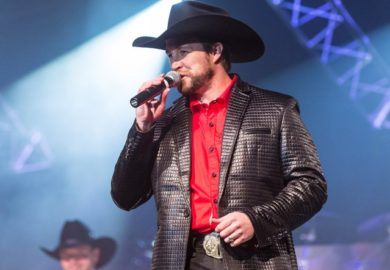 About the show...
Take part in history-in-the-making as the Baldknobbers debut their all-new gospel show this season!
read more...
About the show...
Take part in history-in-the-making as the Baldknobbers debut their all-new gospel show this season!
The Baldknobbers' New Gospel Show!
For a very limited series of shows, The Baldknobbers present their brand-new, all-gospel show!
Delivering the same family-friendly and energetic performances that have kept the legendary Branson show going for more than 50 years – this new show promises to deliver the same quality and entertainment as its long-running counterpart!
Starring the World-Famous Mabe Family!
For more than five decades, the Mabe family has performed their "Baldknobbers" show in Branson, Missouri, for millions of visitors who have flocked to the country's "LIVE Entertainment Capital."
Recognized as the very first show to perform in Branson, the Mabe family have endured and succeeded with their show that combines incredible LIVE music, comedy, and some of the best family-friendly entertainment to be seen anywhere!
From their humble roots in the up-and-coming vacation destination, to headlining their famous theatre on the famous "Strip," to their recent move to a new venue (Branson's Famous Theatre) just a few blocks off the famous Highway 76 – they have remained true to delivering some of the world's best LIVE entertainment!
New All-Gospel Show!
Debuting for the first time ever, the Mabe family presents their brand-new gospel show in Branson, MO!
Featuring many of the incredible cast members of their famous Baldknobbers show – this new production is set to deliver one of the best gospel music shows the town has ever seen!
For only seven days this fall, the show will share some of your favorite Gospel songs, music, and performances – all performed LIVE on stage by some of Branson's most talented singers and musicians!
Featuring Dan Keeton!
Joining the cast on-stage is award-winning Gospel music artist Dan Keeton!
A 2017 inductee into the Gospel Music Association's Gospel Music Hall of Fame and member of the Gold City Quartet, Keeton joins the new gospel show as a featured act – lending his incredible voice to some of the afternoon's entertainment!
Limited Engagement This Fall!
Scheduled for a very limited engagement at their new theatre, the Baldknobbers' Gospel Show promises one of the most uplifting and inspirational afternoon performances to be seen anywhere!
Because of the limited show times and performances scheduled, we strongly encourage advance reservations to ensure the best availability and seating!
For tickets, questions, or reservations:
Call now: 1 (800) 504-0115
Reserve My Seats!
Branson's Famous Baldknobbers Gospel Show
Still looking for more shows?

View all Branson Shows
6 Reasons to Book Now
Book early
for Best seating!
Save time
Skip long lines!
We Guarantee
Our promise to you:
Your Booking
is safe & secure
Your Privacy
is Protected