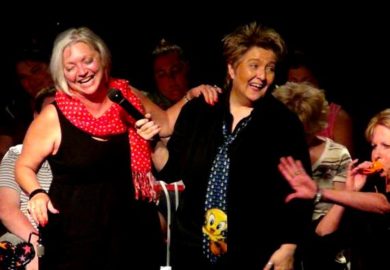 About the show...
Take part in a one-of-a-kind entertainment experience with Jecobie Roberts' hilarious Comedy Hypnosis Show!
read more...
About the show...
Take part in a one-of-a-kind entertainment experience with Jecobie Roberts' hilarious Comedy Hypnosis Show!
One-of-a-Kind Hypnosis Comedy Show!
If you're looking for a truly unique and different show on your next visit to Branson, then the Comedy Hypnosis show featuring Jecobie Roberts is something you won't want to miss!
An interactive show that features audience members to take part in one of the most fun live shows in the area!
A Night You Won't Forget!
It's a fun experience that features volunteers from the audience who will take to the stage to play a part in the evening's entertainment. Hilarity ensues as the audience members perform zany antics, partake in hilarious bits, and create one of the most memorable nights of your visit!
Starring Master Hypnotist Jecobie Roberts!
She has refined her skill through tireless dedication to become one of the world's foremost hypnotists. With a remarkable ability to hypnotize people at a moment's notice, she has become one of the leading acts of her kind in the world.
Her talent has taken her to the corners of the world, putting on a show that people of all ages and backgrounds have enjoyed. With performance credits that include: the Olympics, Disney theme parks, radio shows, and live shows in theatres and venues around the country.
Fun for the Whole Family
With clean, wholesome humor – her show appeals to both children and adults alike. With comedic timing and acts that will have everyone in the audience bursting with laughter, you will be hard-pressed to find a more entertaining show in the area!
Because of the nature of the show and the different people who attend it, each performance is different from the last one – ensuring something new and different each time you see it!
Meal Included With Your Show!
Each ticket to the show includes a delicious meal that begins 1 hour prior to show time.
Your meal includes:
Salad bar
Honey-glaze, pineapple ham
Chicken fettuccine
Hot, buttered corn
Mashed potatoes & gravy
Macaroni & cheese
Dinner roll
Dessert
Ice tea & lemonade
An Entirely New Type of Branson Entertainment!
Never before has an act like Jecobie's Comedy Hypnosis show played in Branson. It provides a one-of-a-kind and refreshing departure from many of the live music shows upon which the destination has built such a name for itself. If you're looking for something new and different, this is something that is definitely worth checking out the next time you are looking for a fun evening activity!
For tickets, questions, or reservations:
Call now: 1 (800) 504-0115
Reserve My Seats!
Comedy Hypnosis Dinner Show
Still looking for more shows?

View all Branson Shows
6 Reasons to Book Now
Book early
for Best seating!
Save time
Skip long lines!
We Guarantee
Our promise to you:
Your Booking
is safe & secure
Your Privacy
is Protected