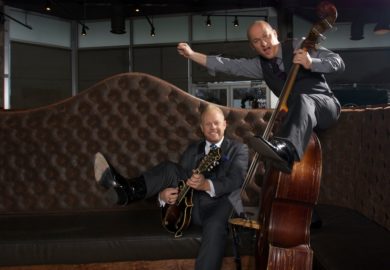 About the show...
Catch TV and bluegrass stars Vincent & Dailey in this special limited set of LIVE concerts in Branson!
read more...
About the show...
Catch TV and bluegrass stars Vincent & Dailey in this special limited set of LIVE concerts in Branson!
As Seen on TV… Dailey & Vincent Bring Their Show LIVE to the Branson Stage!
As stars of their very own show on the RFD-TV network, Jamie Dailey and Darrin Vincent have taken their talent to audiences around the world with both their LIVE tours and as hosts of their popular TV show!
While their show features some of the most talented and popular acts and artists in country music, the two are incredible performers and musicians in their own right – garnering a fan following around the world!
Award-Winning Country Duo!
Although they have hosted some of the biggest names in country music, Dailey & Vincent are no strangers to success – with dozens of awards from some of the world's most respected and distinguished organizations.
With multiple Grammy, International Bluegrass Music Association, and SPGBMA awards to their credit – they are one of the most beloved and successful bluegrass and country acts of our generation!
A String of Hit Songs!
Not only recognized by the music industry for their contributions to bluegrass and country music, Daily and Vincent have released dozens of songs – including 4 Number One hit albums, two that hit #2 on the bluegrass charts, and more!
New Members of The Grand Ole Opry!
On December 30, 2016 – country star Marty Stuart invited the duo to become members of the famous Grand Ole Opry, a night that marked their 100th appearance as guests and which found them performing as official members on March 11, 2017!
Their popularity and appeal is as strong as ever!
LIVE in Branson, Missouri!
For a very special set of performances this year – the duo will bring their amazing talent, personalities, and showmanship to the Branson stage for a very limited engagement in the "LIVE Music Capital of the World"… Branson, MO!
As this is a very special and limited engagement, advance reservations are highly recommended and strongly encouraged – seats are sure to fill up fast!
For tickets, questions, or reservations:
Call now: 1 (800) 504-0115
Book Online!
Dailey & Vincent
Still looking for more shows?

View all Branson Shows
6 Reasons to Book Now
Book early
for Best seating!
Save time
Skip long lines!
We Guarantee
Our promise to you:
Your Booking
is safe & secure
Your Privacy
is Protected