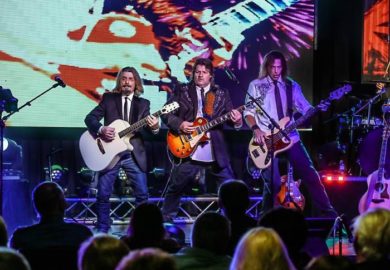 About the show...
Witness one of the world's BEST Eagles tribute groups LIVE on stage in Branson as they share some of rock 'n roll's biggest hits!
read more...
What everyone is saying...
"...would strongly recommend anyone regardless of age to go to this show. It was phenomenal entertainment."


– Charles M.
"AWESOME!!! We saw them and they were FANTASTIC!!!"


– Kent
"We are huge Eagles fans and this performance was truly just as good as the actual group!"


– Jamie
About the show...
Witness one of the world's BEST Eagles tribute groups LIVE on stage in Branson as they share some of rock 'n roll's biggest hits!
Bringing the sounds and southern-style music of one of the most popular rock bands of all time, this tribute to The Eagles will leave all of the audiences who see it singing along with their favorite songs!
Offering something different to show options in Branson, this show delivers some of the best classic rock you will hear anywhere!
Your Favorite Eagles Songs!
Sharing the stories and songs behind some of the greatest music to emerge in the last 50 years, your favorite hits will be performed on-stage including "Take it to the Limit," "Seven Bridges Road," "Peaceful Easy Feeling," "Already Gone," "Hotel California," "Desperado," and many more singles which have sold millions around the world.
As one of the best-selling groups of all time, their appearances filled stadiums, sold between 100-150 million albums, and gained worldwide recognition and acclaim.
Now, you have the rare chance to catch one of the greatest tribute acts in the world – LIVE in Branson, Missouri!
Some of the Best Musicians in Branson!
The group is made up of some of the most talented musicians and instrumentalists that you will ever hear. They have opened for some of the biggest names in rock 'n roll, performed alongside some of the most popular, and have made a name for themselves as a powerhouse force to be reckoned with!
Their live music delivers an experience that can't be recreated with tracks, everything you see and hear on stage is performed LIVE in front of you.
Hits From the Eagles' Solo Careers Too!
After disbanding, several of The Eagles members went on to have highly successful solo careers as well. In addition to the music you will hear from when the group was together, audiences will also hear samples from the artist's work after the breakup including: Joe Walsh's "Life's Been Good," Don Henley's "Heart of the Matter," and many more!
A Musical Tribute to The Eagles & Rock 'n Roll!
Hear the songs brought to life as the tribute band brings back some of the most popular songs from the last 40 years that helped a generation of singers and musicians!
Taking place in one of the newest theatres in Branson, the venue is easily accessible no matter where you're staying!
For tickets, questions, or reservations:
Call now: 1 (800) 504-0115
Book Online!
Eagles Tribute – "Take it to the Limit"
Still looking for more shows?

View all Branson Shows
6 Reasons to Book Now
Book early
for Best seating!
Save time
Skip long lines!
We Guarantee
Our promise to you:
Your Booking
is safe & secure
Your Privacy
is Protected