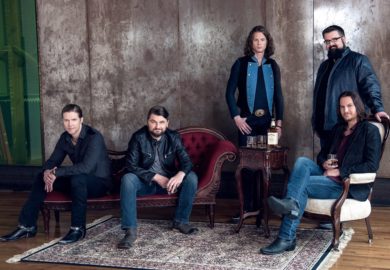 About the show...
See the vocal group and acappella sensation Home Free as they perform LIVE on stage in Branson!
read more...
What everyone is saying...
"These guys can really sing! They deliver an entertaining, delightful performance tour de force."


– Jane M.
"...they are great. Worth seeing."


– Robert C.
"You will not believe that you're listening to a group with no instruments other than their voices — really!"


– Ward D.
About the show...
See the vocal group and acappella sensation Home Free as they perform LIVE on stage in Branson!
See the TV & YouTube A Cappella SensationLIVE in Branson!
A cappella group and singing sensation Home Free took the world by storm when they won NBC's hit TV show The Sing-Off!
Millions of viewers tuned in to see this 5-man group win the 4th season of the show and land a $100,000 recording contract.
Soon after their appearance on the show their popularity skyrocketed!
The group racked up hundreds of millions of views on YouTube, propelling them into internet stardom!
No Instruments, Only Their Voices!
This amazing lineup of 5 incredibly talented singers creates a one-of-a-kind sound… using only their voices!
Their songs feature no instruments, featuring only their voices to create their amazing songs!
TV & Internet Sensation!
Home Free has amassed an incredible fanbase since they first exploded on to the country music scene nearly ten years ago!
Winning the hearts of millions who tuned in to see them on The Sing-Off, Home Free would embark on a worldwide tour, record an album, and release music videos that racked up hundreds of millions of views!
Their songs and videos have featured some of the biggest names in music – from the Oak Ridge Boys to the Pentatonix!
Teaming up with Avi Kaplan of the Pentatonix, the group recorded a rendition of "Ring of Fire" that has been viewed tens of millions of times!
In 2015, the group released their Country Evolution album, which topped the country music charts!
Country Music Like You've Never Before Seen (or Heard)!
Take part in this one-of-a-kind performance as Home Free puts on a concert that must be seen (and heard)!
Performing LIVE on Stage in Branson!
Catch the group as they put on a very special limited engagement show in the "Live Entertainment Capital" – Branson, Missouri!
For tickets, questions, or reservations:
Call now: 1 (800) 504-0115
Book Online!
Home Free
Still looking for more shows?

View all Branson Shows
6 Reasons to Book Now
Book early
for Best seating!
Save time
Skip long lines!
We Guarantee
Our promise to you:
Your Booking
is safe & secure
Your Privacy
is Protected