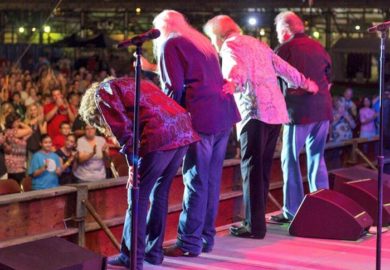 About the show...
See the original members of the Oak Ridge Boys LIVE in Branson for a performance you won't ever forget!
read more...
What everyone is saying...
"You'll love it and the price is fantastic for such a group of talented people."


– Nancy M.
"I would recommend anyone to go and see them... they still haven't lost their touch."


– Fred D.
"Would definitely go again."


– Fred D.Betty
About the show...
See the original members of the Oak Ridge Boys LIVE in Branson for a performance you won't ever forget!
The Oak Ridge Boys LIVE in Branson!
One of the most enduring and popular country groups of all time, the Oak Ridge Boys celebrate more than 50 years of performing together in a show that is sure to be the highlight of your trip!
For more than 50 years, the Oak Ridge Boys have producing some of the most popular and distinctive-sounding music to be heard anywhere – now you can see them LIVE on stage at their own theatre in Branson, Missouri!
50+ Years of Entertainment!
Originally a gospel group that transitioned to country music and even crossed genres with their work with some of the biggest names in pop and rock music, their music remains as relevant as ever.
Still made up of the band's original members (William Lee Golden, Duane Allen, Joe Bonsall, & Richard Sterben), they deliver some of their biggest hits and chart-topping singles in a performance that you won't want to miss!
Performing alongside each other since the 70s, the current lineup shows what passion and dedication the group has for performing – and they continue to deliver an amazing series of shows at their home in Branson at the Oak Ridge Boys Theatre.
One of the Most Successful Groups of All Time!
Throughout their long history of music-making the group has been recognized around the world and received awards from the music industry's most respected organizations.
They have received 5 Grammy awards, 8 Dove Awards, 4 Country Music Association (CMA) Awards, 2 Academy of Country Music Awards (ACMA) – in addition to being one of the most commercially-successful acts in country and gospel music.
Chart-Topping Hits!
Their impressive catalog of songs has created a string of chart-topping singles and includes many that you know by heart (and many which have become classics):
"Leaving Louisiana in the Broad Daylight" – #1 hit
"Trying to Love Two Women" – #1 hit
"Elvira" – #1 hit
"(I'm Setting') Fancy Free" – #1 hit
"Bobbie Sue" – #1 hit
"American Made" – #1 hit
"Love Song" – #1 hit
"No Matter How High" – #1 hit
"Thank God for Kids" – #3 hit
and dozens others which have either hit #1 or placed atop the music charts.
The volume of music that they have produced is in itself an amazing feat, with dozens of songs and albums released over the years – they continue to remain as popular as ever and appeal to new generations of fans.
Celebrating 40 Years With the Current Line-Up
In 2013, a remarkable feat was accomplished when the group celebrated 40 years of performing together as the current line-up.
Continuing their tradition of delivering some of the best concerts and shows you will ever see, visitors to Branson have the chance to catch them perform throughout the year in their very own theatre!
For tickets, questions, or reservations:
Call now: 1 (800) 504-0115
Book Online!
Oak Ridge Boys
Still looking for more shows?

View all Branson Shows
6 Reasons to Book Now
Book early
for Best seating!
Save time
Skip long lines!
We Guarantee
Our promise to you:
Your Booking
is safe & secure
Your Privacy
is Protected