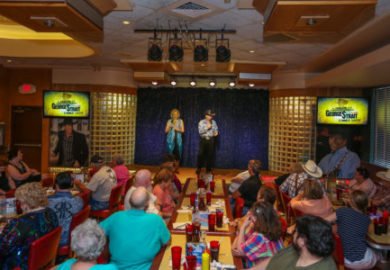 About the show...
An amazing value – this dinner show shares some of George Strait and country music's biggest hits while you enjoy a delicious dinner!
read more...
What everyone is saying...
"Very good intimate show. He takes requests, wonderful evening to close your eyes and imagine you are at a Strait concert."


– Misti A.
"Great show and good food. Must see if you like George Strait"


– Linda
"I saw this show this summer with my daughter & it was super!... Oh, and good food too!"


– Kimberly
About the show...
An amazing value – this dinner show shares some of George Strait and country music's biggest hits while you enjoy a delicious dinner!
Country Music Dinner Show!
World-renown entertainers Debbie Kaye and Gordy Wensel bring their award-winning George Strait tribute show and dinner to Branson audiences with one of the best values that you will find anywhere!
This show takes you through the life and music of one of the most successful and loved country music artists of all time – as the duo share the songs that made George Strait so remarkably popular throughout his career.
The Music of one of Country's Legendary Artists
Without question, George Strait's music and popularity is unmatched in the history of country music. Throughout his music career, he has achieved incredible success including: 70+ million album sales, 44 Number One hit songs, dozens of gold, platinum, and multi-platinum albums, and is considered one of the best-selling musicians of all time.
Gordy & Debbie – A Pair That Can't be Beat!
This husband and wife team will perform some of the George's hits as they take you on a journey through the musical catalog of one of the greatest recording artists to have ever lived!
They will share some of his biggest chart-topping hits including: "River of Love," "I Saw God Today," "It Just Comes Natural," "One Night at a Time," and "You Look So Good in Love" as they take the audience on a journey from his earlier music to today's modern hits.
From Classic Hits to Contemporary Chart-Toppers!
If you like country music, then you are going to love this George Strait Tribute show – considered one of the best of its kind in the world!
Hear everything from the classic hits that made him famous to the newly-released material, it's a must-see for any fan.
Amazing Dinner Served With the Show!
Beginning about an hour before the main show starts, everyone is served up a great meal that is just as good as the show itself!
Included with your admission is a delicious dinner that includes several options for you to choose from:
Slow-cooked prime rib
Battered country fried steak
Deep-fried shrimp
Grilled Hawaiian chicken
Your main entree is served alongside: a fresh garden salad, baked dinner roll, delicious dessert, and an assortment of refreshments (coffee, tea, and soda).
Great Value for the Price!
Offering remarkable value for what you receive, this is one of the best bargains to be found in Branson! For what you might normally pay for only a show, you get your dinner included for the same price!
When making a reservation, please specify whether you would like prime rib, jumbo shrimp, or chicken fried steak for your meal.
For tickets, questions, or reservations:
Call now: 1 (800) 504-0115
Book Online!
George Strait Tribute Dinner Show
Still looking for more shows?

View all Branson Shows
6 Reasons to Book Now
Book early
for Best seating!
Save time
Skip long lines!
We Guarantee
Our promise to you:
Your Booking
is safe & secure
Your Privacy
is Protected