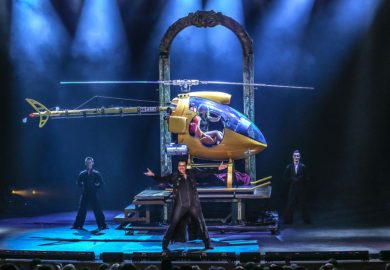 About the show...
Witness the unbelievable and the amazing in Rick Thomas' world-famous magic show!
read more...
What everyone is saying...
"...Rick Thomas is a Riveting Visual Delight"


– LA Times
"...A Triumph of Personality and Presentation!"


– Las Vegas Sun
"....He's The Best Magician, Period!!"


– Showbiz Magazine
About the show...
Witness the unbelievable and the amazing in Rick Thomas' world-famous magic show!
Famous Illusionist & Magician As Seen on TV, Broadway, & Around the World!
Master magician and illusionist Rick Thomas will be taking to the Branson stage in his production's debut for the largest magic show in town!
You may have recently seen him performing on Broadway, on the Rachael Ray show on TV, or in one of his many appearances in theaters around the world!
Now, experience the magic up-close with Rick Thomas' famous magic and illusions show!
World-Famous Illusions & Magic!
He has traveled the world with his act, entertaining audiences around the globe with his amazing and unbelievable large-than-life production. His shows have included death-defying stunts, large-scale illusions, remarkable stage sets and backdrops, and performed for millions during his career as one of the world's premiere magicians.
Las Vegas Headliner for 15 Years!
Rick has headlined some of the largest venues, concert halls, and stages in the world – including a 15-year stint at various entertainment spots at one of the country's most popular tourist destinations. Just a few of the places he has taken his show include some of world's most-respected and popular resorts including: The Mirage, The Bellagio, Mandalay Bay, Planet Hollywood, The Tropicana, Bally's, and many more that are recognized with around the globe.
As Seen on TV, 50+ Countries, & All 7 Continents!
Both nationally and internationally, he has appeared on numerous television specials. In Asia, ABC featured its very own Rick Thomas TV special and he appeared on the now-famous "The World's Greatest Magic" show that showcased some of the world's leading magicians.
His 5 world tours have taken him to more than 50 locations throughout his career and earned him recognition from various organizations with the World Magic Award bestowing upon him the "Magician of the World" award. He has performed his act on more than 300 cruise lines, and refined one of show business' most skilled arts.
One of the most relentless and persevering entertainers you may ever come across, his unwavering dedication has made him one of the enduring and seasoned magicians in the world today.
2016 "Illusionist of the Year!"
Receiving the prestigious "Merlin Award," Rick Thomas has been honored by the International Magicians' Society for 2016 as "Illusionist of the Year!"
Magician Rick Thomas delivers a show that must be seen to be believed!
For tickets, questions, or reservations:
Call now: 1 (800) 504-0115
Reserve My Seats!
Rick Thomas Magic Show
Still looking for more shows?

View all Branson Shows
6 Reasons to Book Now
Book early
for Best seating!
Save time
Skip long lines!
We Guarantee
Our promise to you:
Your Booking
is safe & secure
Your Privacy
is Protected