Branson is the perfect destination for a Valentine's Day (or weekend) getaway. There are so many things to see and do, LIVE shows, beautiful scenery, shopping, incredible lodging, and some great specials to help you create the perfect romantic getaway.
If you're looking for deals or to create something memorable, give us a call – we can help put together the perfect Valentine's Day package special or getaway for you! Call: 1 (800) 504-0115.
Valentine's Day Specials, Lodging, Dining, & Things to Do in Branson
Romantic Lodging in Branson:
Shows Playing During Valentine's Week:
Valentine's Day Things to Do:
Romantic Places to Eat:
Romantic Lodging for Valentine's Day in Branson
When you're traveling to Branson and looking for a romantic place to stay there are many different lodging types available for you to choose from to help create the perfect getaway.
Whether you're traveling as a couple or bringing the rest of the family, you are sure to find a place to stay that you will love!
---
Sitting on the Northwest side of Branson, these 1-4 bedroom cabins offer easy access to everything in town while providing seclusion tucked in the heart of the Ozark Mountains.
---
Set just a few blocks off the heart of 76 "The Strip," these cabins offer 1-4 bedrooms and sit in the heart of everything to do in Branson – while still providing you plenty of peace and privacy during your stay.
---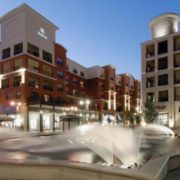 Branson's Hilton Hotels
Sitting in downtown Branson, there are 2 beautiful Hilton hotels to choose from (the Promenade and the Convention Center). They provide an amazing location, incredible amenities, on-site dining, and five-star service that ensures you have a truly unforgettable stay.
Hilton Promenade Hilton Convention Center
---
Hotels & Motels in Branson
With hotels and motels that range from economical to luxurious 5-star properties, you're sure to find the perfect place to stay this Valentine's Day in Branson!
---
Branson Shows Playing Valentine's Week
A morning show the kids will love (or the young at heart)!
---
An evening gospel show that features phenomenal musical and vocal talent!
---
A late night country and variety show broadcast LIVE on the air!
---
A tribute to Creedence Clearwater Revival!
---
Contemporary and traditional music, singing, and dancing from some of Ireland's favorite performers!
---
Hear your favorite songs from The Eagles!
Show Times:
February 10, 13, 15, & 17, 2017 at 8:00 pm
---
A tribute to the King of Rock 'n Roll!
---
A morning country music tribute to George Jones!
---
One of Branson's most popular country and variety shows! Featuring comedy, music, dancing, singing, and more!
---
More than 20+ years of performing for Branson visitors, The Haygoods has one of the most entertaining and high-energy shows in town!
---
The "World's Largest Performing Family" delivers variety and entertainment that is unmatched!
---
Hear some of your favorite Southern Rock songs in this tribute to Lynyrd Skynyrd!
---
The hot hits, smooth sounds, and soulful rhythm of Motown brought to life on the Branson stage!
---
Branson's most popular Bluegrass show performs with special evening shows!
---
Comedy, rockabilly, country, bluegrass, and some of the best LIVE musical entertainment to be seen anywhere!
---
Things to Do Around Valentine's Day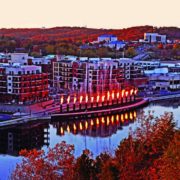 Branson Landing & Fountains
Shop, dine, and play at Branson Landing and view the world-class fountains in the town square!
Located in downtown Branson.
---
Experience the stories, artifacts, and history of the world's most famous ship.
Hours of operation:
Open daily
---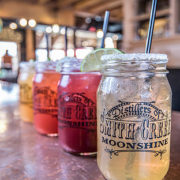 Tour one of the area's famous wineries or distilleries for free tastings and tours!
Hours of operation:
Wineries and distilleries are open daily
---
Experience one of the most unique and beautiful attractions in Branson as you witness the butterflies up-close!
Hours of operation:
Open daily
---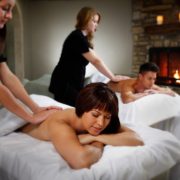 Visit a Branson Spa
With two multi-million dollar spas in Branson, treat yourself to some rest and relaxation at the Spa Chateau or Big Cedar's Cedar Creek Spa.
Reservations recommended:
Big Cedar's Cedar Creek Spa: (417) 335-2777
Spa Chateau: (417) 243-1700
---
Romantic Restaurants & Dining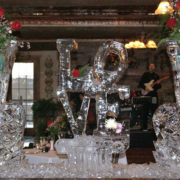 Keeter Center
Candlelight, live music, and amazing food in a rose-petal setting at the College of the Ozarks.
Reservations required on Valentine's Day:
Phone: (417) 239-1900
---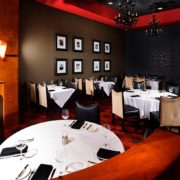 Level 2 Steakhouse
Branson's finest steakhouse features a Valentine's Day special including: "Foie Gras French Toast," "Yellow Tail Snapper en Papillote," and more!
Reservations recommended:
Phone: (417) 243-3433
---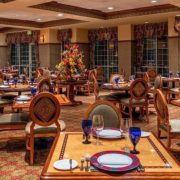 Chateau Grille
Overlooking Table Rock Lake, the Chateau Grille at Chateau on the Lake features a special Valentine's Day menu from February 10-14.
Reservations:
Phone: (417) 243-1777
---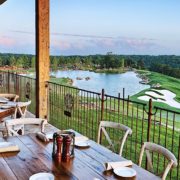 Top of the Rock & Osage Restaurant
Tour the magnificent Top of the Rock Golf Course and dine at the Osage Restaurant for a truly incredible experience!
Reservations:
Phone: (417) 335-2777