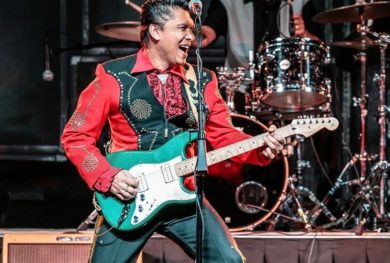 About the show...
The music of the 50s and 60s and the biggest hits from Elvis Presley, Ricky Nelson, Bobby Darin, Richie Valens, & more!
read more...
Experience

Sting Ray's Jukebox Rock!
About the show...
The music of the 50s and 60s and the biggest hits from Elvis Presley, Ricky Nelson, Bobby Darin, Richie Valens, & more!
At a Glance
Location God & Country Theatre
Show Length

About 2 hours

Prices From $31.35
Seating

Reserved

Groups of 15+?

Please call for special rates
Music From 50s and 60s Icons!
Exclusively endorsed by the Ritchie Valens estate, this features the amazing talents of Sting Ray Anthony in a brand-new show that you won't want to miss!
The Music of Ritchie Valens & Other Greats!
Featuring the music of the late, great Ritchie Valens – this show highlights the music and life of some of the most influential and popular music artists, singers, and groups of all time.
Masterfully recreating the looks and sounds of one of rock 'n roll's most legendary pioneers, Sting Ray Anthony puts on a show that will entertain audiences of all ages!
During his short career, Ritchie would influence generations of musicians and fans with his upbeat and pioneering recordings like: "La Bamba" and "Come On Let's Go."
Some of Rock's BIGGEST Hits of the 50s and 60s!
This show will pay tribute to one of rock 'n roll's earliest pioneers in a musical entertainment extravaganza unlike anything else performing in Branson!
In addition to Ritchie's music, the show will also feature the music of Elvis Presley, Bobby Darin, Ricky Nelson, The Ventures, and more!
Sting Ray Anthony will share the music, looks, and stories behind some of the most iconic songs in history in a show that will have you clapping and singing along.
Endorsed by Ritchie Valens' Estate!
As one of the very few productions to be officially and exclusively endorsed by the estate of the late, great singer and musician – this high-energy show is sure to be one of the highlights of your trip!
Reviews
Sting Ray's Jukebox Rock
The music of the 50s and 60s and the biggest hits from Elvis Presley, Ricky Nelson, Bobby Darin, Richie Valens, & more!
Book early for
Best seating!
NO FEES for
Booking or changing
Save time
Avoid the long lines!
We Guarantee
Our promise to you:
Your Booking
is safe & secure
No Fees
for booking or changing

Other travelers also liked…
Still looking for more shows?

View all Branson Shows
Ready to reserve?
To ensure the best possible service,
we only book by phone
Call now toll-free:
1 (800) 504-0115
We're open 7 days a week
(8:00 am - 10:30 pm - Central Time)
Special Promotion Price Terms & Conditions
We work with a local travel club (it's not a timeshare) and can offer you some amazing deals on your next trip to Branson!
To take advantage and qualify for this very special pricing, there are a few terms, qualifications, and conditions we need to let you know about.
Qualifications
This special offer is for single, married, or cohabitating couples that meet the following conditions:
Have an annual combined income of $40,000+
Agree to attend (together if married or cohabitating) a 90-minute travel club sales presentation
Show IDs with matching address at presentation
Show a major credit card, debit card, or checkbook at presentation
Must be a US resident
Must be between the ages of 25-75
Have not declared bankruptcy in the last 2 years
Not valid for Westgate Resort or Travel Club owners or those with access to Westgate Travel Club
How do I get this special price?
Upon completion of your presentation we will credit you back $100 toward your package. :-)
In the event you do not attend the presentation or don't meet the qualifications above, the regular package price will apply.
Please note that this promotional material is being used for the purpose of soliciting sales of a travel club, however, no purchase at the sales presentation is required - only 90 minutes of your time.
Have questions?
Give us a call: 1 (800) 504-0115


Hotels available in this package
All hotel options are based upon availability.


FREE Branson Guest Card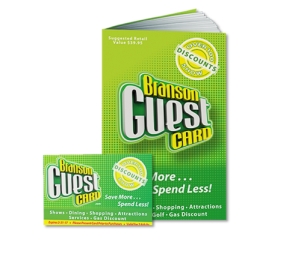 When you order, you receive a FREE Branson Guest Card that is packed with savings, discounts, and coupons!
Valued at $29.95, this card and booklet offers you nearly $5,000 in deals and discounts around Branson!
Packed with savings, it will save you on shopping, restaurants, golf, attractions, and more!
Included FREE when you book!
Ready to book?
Give us a call: 1 (800) 504-0115
Sting Ray's Jukebox Rock
God & Country Theatre
1840 W. Highway 76, Branson, MO 65616