Dudu Fisher – "The Voice of Broadway"
Ready to Book?
Call: 1 (800) 504-0115
Local: (417) 544-1944
Travel Tip: Shows are popular, book early for best prices & seats!
Special Deal Included!
Dudu Fisher – "The Voice of Broadway" Special!
Receive a FREE Branson Guest Card with your order
(a $39.95 value with $3,900 in discounts!)
About Dudu Fisher – "The Voice of Broadway"
At a Glance
Show Length

About 90 minutes
Questions or Reservations
Toll-free

1 (800) 504-0115

Local

(417) 544-1944

Groups?

Please call for special rates
Need tickets?
Get Your Tickets!
He has entertained heads of state and church including Queen Elizabeth II and the Pope – and now Dudu Fisher "The Voice of Broadway" brings one of his biggest productions to Branson with "Jerusalem!"
Seen by Millions!
From his roles on Broadway in "Les Miserable" to his appearances on London's West End, Dudu shares his unique tale to audiences around the country who visit the "Live Entertainment Capital of the World," Branson, Missouri.
Throughout his long and diverse career he has performed in front of millions of people around the world, bringing his unique talents and charismatic personality to life with each performance he is a part of.
Very Limited Engagement
Returning back to the Midwest where he has received much acclaim with past appearances, his brief stint in Branson is sure to be something that will draw audiences from around the country.
With "Jerusalem," he will take to the stage to perform a variety of songs (almost 20 throughout his amazing show) in a way that only he could. This show will have not only an entertaining aspect to it, but will also share some of the educational and historical elements from his life and travels.
It's a production without equals and a one-of-a-kind multimedia show that you must see to believe.
Get Your Tickets!
Lock in great prices and avoid the long lines.
Save time & money by booking your tickets early.
Location
Dudu Fisher – "The Voice of Broadway"
3425 W. Hwy 76, Branson, MO 65615
Hughes Brothers Theatre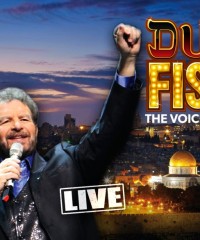 We Guarantee
Your booking is safe - Your information is protected.
No service fees - We don't add any additional booking or service fees.
No fees to change - We don't charge for changing dates or times.
Your privacy is protected - Information is used only to confirm your booking.
Dudu Fisher – "The Voice of Broadway"