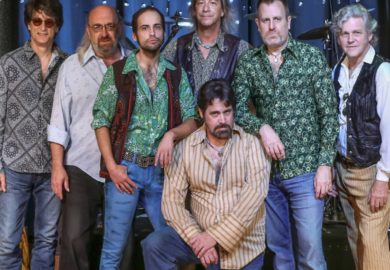 About the show...
An afternoon rock 'n roll show playing the greatest songs of all time – from 3 Dog Night to Bob Seger and Joe Cocker!
read more...
What everyone is saying...
"Great harmonies, good showmanship and a well thought out song line up had us singing and dancing with this band!"


– Gail F.
"This was a great show! I know that phrase is over used but I truly enjoyed it from beginning to end."


– Mark M.
"...they were spectacular! They played all the old hits."


– Anna P.
About the show...
An afternoon rock 'n roll show playing the greatest songs of all time – from 3 Dog Night to Bob Seger and Joe Cocker!
The Best Classic Rock 'n Roll Music!
Take part in a one-of-a-kind musical experience as some of your classic rock hits from Three Dog Night, Bob Seger, and more are performed LIVE on stage!
Featuring classic rock hits from your favorite singers, groups, and bands – it's a high energy music production you won't want to miss!
Music & Songs From 3 Dog Night to Bob Seger!
Hear some of your favorite classic rock hits as you're taken on a nostalgic musical journey that shares the music and songs of some of Rock 'n Roll's biggest hitmakers, including:
Three Dog Night
Bob Seger
Steppenwolf
Tommy James & The Shondells
The Guess Who
The Doobie Brothers
Joe Cocker
…and more!
It's one of Branson's most popular and acclaimed classic rock shows, sure to have you reminiscing and celerating along with the music!
Hear The Hits of 3 Dog Night!
While the show features the music from many of your favorite 60's rock groups and recording artists, the hit songs of 3 Dog Night takes center stage!
As one of the most commercially successful and popular groups of the late 60s and 70s, Three Dog Night became a mainstay on the radio airwaves.
The group would become one of the most successful music acts of all time, charting an incredible 21 consecutive Top 40 hit songs, selling 40+ million albums, and selling out venues wherever they toured!
Some of their most popular and loved songs are shared in the show, including:
"One"
"Mamma Told Me Not to Come"
"Joy to the World"
"Old Fashion Love Song"
"Never Been to Spain"
"Eli's Coming"
"Celebrate"
"Easy to be Hard"
…and many more!
Amazing LIVE Band!
This incredible stage production is performed by one of the most incredibly talented lineups of musicians and singers!
Featuring an all-star cast of some of the biggest names in Branson music, their tribute to some of your favorite songs is something you won't want to miss!
Feel the energy of the music and lyrics as the band recreates the sounds and feelings of some of rock 'n roll's most timeless, classic, and popular songs.
An Evening of Classic Rock Hits!
With the perfect time slot to fit into your schedule, the show provides two hours of nonstop entertainment and LIVE music that audiences of all ages can enjoy!
For a music show filled with talent and some of the best music of all time, this is a show you won't want to miss!
LIVE Musical Tribute to Fleetwood Mac & Stevie Nicks!
The songs of one of the most popular and successful music groups of all time is recreated LIVE on the Branson stage in this incredible rock 'n roll tribute!
Relive the music, experience the nostalgia, and take part in a musical production unlike anything you've ever experienced!
The Classic Hits of One of Music's Most Popular Bands!
Throughout the 1970s, the music and songs of Fleetwood Mac dominated the radio airwaves and filled stadiums, concert halls, and venues around the world!
Their music is considered some of the best classic and soft rock of all time, with millions and millions of concert tickets and albums sold.
Now, experience the music of Mick Fleetwood, Lindsey Buckingham, Christine McVie, John McVie, and Stevie Nicks in this incredible tribute to the band known as Fleetwood Mac!
Throughout this LIVE musical production, you will hear some of the group's biggest hits including:
"Dreams"
"Little Lies"
"Don't Stop"
"Go Your Own Way"
"Rhiannon"
"Stop Draggin' My Heart Around"
"Gypsy"
…and dozens more!
Featuring Julie C. Myers!
World-renown Stevie Nicks tribute artist Julie C. Myers takes to the stage to recreate the sound and look of one of rock's leading ladies – as she pays tribute to the music, songs, and life of Stevie Nicks and the rock 'n roll supergroup!
For tickets, questions, or reservations:
Call now: 1 (800) 504-0115
Book Online!
3 Dog Night & Friends & Fleetwood Mac
Still looking for more shows?

View all Branson Shows
6 Reasons to Book Now
Book early
for Best seating!
Save time
Skip long lines!
We Guarantee
Our promise to you:
Your Booking
is safe & secure
Your Privacy
is Protected