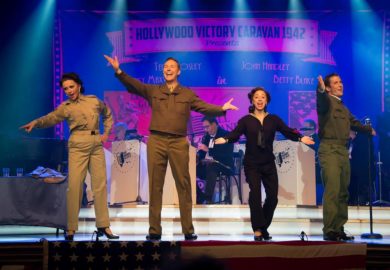 About the show...
Witness one of America's greatest patriotic stage shows with an amazing cast of singers, dancers, performers, and a LIVE 9-piece big band!
read more...
What everyone is saying...
" FANTASTIC voices and dancing, familiar tunes, a real tribute to our veterans in the armed services! A GREAT production!"


– Jessica
"The performers were outstanding singers and dancers and related well with the audience and the big band was also outstanding."


– Glenn K.
" BRAVO, BRAVO, BRAVO!!!... A must show for visitors and locals alike."


– Jim P.
About the show...
Witness one of America's greatest patriotic stage shows with an amazing cast of singers, dancers, performers, and a LIVE 9-piece big band!
America's #1 Patriotic Show!
Travel back in time more than 75+ years for a morning of singing, dancing, music, and memories as "America's #1 Patriotic Show" recreates a radio broadcast and roadshow from 1942!
With a multi-year tour that sold out theatres and performance venues around the world, this smash hit production now makes it home in the "LIVE Entertainment Capital of the World"… Branson, Missouri!
The All Hands on Deck! show is a musical extravaganza that pays tribute to the greatest country in the world, the amazing people in it, and the music, songs, dances, and laughter from a simpler era of our history.
Take part in celebrating our great culture, as this musical patriotic production pays tribute to all of the things that have made America the greatest nation in the world!
Featuring a Broadway Star, LIVE 9-Piece Band, & More!
This musical stage production is made up of an ensemble cast of singers, performers, and musicians that include Broadway veteran Jody Madaras, a LIVE 9-Piece Big Band Orchestra, and several of the most amazing singers and dancers to ever take to the Branson stage!
You will be transported back to an on-air radio broadcast as the incredible cast whisks you away to another era with singing, dancing, comedy, and music in an unmatched musical show that has audiences around the world raving!
42 of the Greatest American Songs of All Time!
The musical will showcase more than 40+ of the greatest American songs of all time, including:
"Chattanooga Choo-Choo"
"Yankee Doodle Dandy"
"Deep in the Heart of Texas"
"Stage Door Canteen"
"Thanks for the Memory"
"Pennsylvania Polka"
…and more than 35+ more timeless songs!
Singing, Dancing, Music, & More!
Take a trip back in time to 1942 as you are transported to a radio broadcast and old-time roadshow that shares some of the ways of life, incredible singing and dancing, comedy, and some of the finest LIVE entertainment to be seen on any stage!
Backed by the Hollywood Victory Caravan Orchestra (Branson's only Big Band and made up of 9 members), an incredible lineup of entertainers and singers, and one of the most entertaining productions to appear on any Branson stage – it will entertain and delight audiences of all ages!
For tickets, questions, or reservations:
Call now: 1 (800) 504-0115
Reserve My Seats!
All Hands on Deck! Show
Still looking for more shows?

View all Branson Shows
6 Reasons to Book Now
Book early
for Best seating!
Save time
Skip long lines!
We Guarantee
Our promise to you:
Your Booking
is safe & secure
Your Privacy
is Protected